Khashoggi, Gianforte and Trump's continued disdain for journalists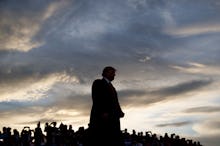 President Donald Trump said in an interview aired Sunday that the assassination of a dissident journalist would demand "severe" punishment, but his willingness to accept Saudi Arabia's shaky story — and comments at a rally cheering a Montana congressman for assaulting a reporter — undercut any notion that he believes in protecting members of the press.
Trump, who spent the beginning of the week defending Riyadh amid allegations that the Saudi regime was behind the presumed killing of Jamal Khashoggi, slightly shifted his tone Thursday, acknowledging in an interview that the Washington Post contributor had likely been murdered and suggested he'd hold the kingdom accountable if it was confirmed to be responsible.
"It's bad, bad stuff," Trump told the New York Times Thursday.
While he still didn't formally acknowledge a Saudi role in the disappearance or say what those "very severe" consequences could be, it marked something of a shift for the president, who had appeared to accept the regime's denials and suggested that "rogue killers" could actually have been responsible for Khashoggi's presumed murder.
But any indication Thursday that Trump was beginning to take threats to journalists seriously was undermined at a rally later that evening when he praised Rep. Greg Gianforte (R-Mt.) for his infamous attack on a reporter the day before he was elected to Congress in May 2017.
"Any guy that can do a body slam, he's my kind of guy," Trump told supporters at a campaign event in Montana Thursday night, mimicking Gianforte performing the wrestling move.
Supporters laughed, clapped and cheered.
Gianforte, who also has ties to alleged white supremacists, attacked Guardian reporter Ben Jacobs in 2017 after he asked him a question about Republicans' plans to repeal the Affordable Care Act.
He was charged with misdemeanor assault.
Trump said in the rally Thursday that he was initially concerned that the unprovoked attack on the journalist would hurt Gianforte's election prospects.
"Then I said, 'Well, wait a minute. I know Montana pretty well. It might help him,'" Trump told supporters Thursday. "And it did!"
Then, when Saudi Arabia claimed on Friday that Khashoggi died during a fist fight at its Istanbul consulate, Trump told reporters he found the explanation "credible" —despite the U.S. intelligence community and lawmakers on Capitol Hill, including members of his own party, viewing that narrative with skepticism.
This isn't the first time Trump has joked about, seemingly encouraged or cast aside violence against the media.
He routinely calls out individual reporters, many of whom have reported receiving death threats from his supporters afterward. He also characterizes the media as the "enemy" of the American people, and once infamously tweeted a bizarre video of himself bodyslamming a person with the CNN logo over their face.
He tried to back off his reckless rhetoric against the media in July after a deadly mass shooting at the Capital-Gazette newspaper in Maryland, saying that journalists should not have to fear being "violently attacked while doing their job."
But less than a week later, he was back at it again, lashing out on Twitter at the Times and the Post.
For its part, the Annapolis newspaper called Trump out for his anti-media rhetoric, writing in an editorial that "we won't forget being called an enemy of the people."