This Week in Politics: Trump campaigns for Ted Cruz, John Bolton meets with Vladimir Putin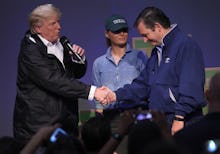 The country is entering its final push ahead of the November midterm elections, with about two weeks to go before voters head to the polls Nov. 6.
Candidates across the country will continue their campaigns this week, with some receiving help from such political leaders as Hillary Clinton and President Donald Trump, whose campaign stops this week will include a Texas rally for former rival Sen. Ted Cruz.
Back in Washington, the political fallout is set to continue over the killing of journalist and Saudi dissident Jamal Khashoggi at the Saudi Arabian consulate in Turkey, while Deputy Attorney General Rod Rosenstein heads to Capitol Hill to meet with House lawmakers amid a recent report that he was critical of the president.
There also could be controversy abroad, as White House adviser John Bolton meets with Russian officials — likely including Russian President Vladimir Putin — in Moscow amid reports Trump is pulling out of a nuclear treaty over the country's "violations" of the agreement.
Here's what to expect from the political world in the week ahead.
Trump's agenda: The president will be back out on the campaign trail this week, with upcoming rallies in Mosinee, Wisconsin, on Wednesday to campaign for Gov. Scott Walker and Charlotte, North Carolina, on Friday for congressional candidate Mark Harris.
On Monday, Trump will head to Houston for a major rally in support of Sen. Ted Cruz, who currently has a slight lead over much-hyped challenger Beto O'Rourke. Trump previously clashed with Cruz during the 2016 presidential primary and called him "Lyin' Ted" — a monicker O'Rourke highlighted during the candidates' most recent debate — but now says the incumbent senator has his "strong endorsement."
In addition to his campaign stops, Trump will also speak about the opioid crisis on Wednesday and deliver a speech Tuesday at the White House State Leadership Day Conference for officials from Alaska, Hawaii and California, as well as meet with senior military officials.
Midterm elections: Candidates across the country will make some of their final pleas to voters this week as the midterm elections draw near. As Trump heads to Texas, Democrats in Florida facing contentious gubernatorial and Senate races will get some help from political heavy-hitters of their own. Former Secretary of State Hillary Clinton will campaign for gubernatorial candidate Andrew Gillum in Miami on Tuesday, while former Vice President Joe Biden will support Gillum and incumbent Sen. Bill Nelson at rallies throughout Florida on Monday and Tuesday. Gillum will also face off in a debate Wednesday with opponent Ron DeSantis.
In Georgia, the state's contentious gubernatorial election will play out this week with a debate Tuesday between Georgia Secretary of State Brian Kemp and Stacey Abrams, who is running to become the first black woman governor in the United States. The race has been plagued by escalating reports of voter suppression, including reports that 53,000 voter applications were put on hold and a surge of rejected absentee ballots; a legal challenge from the American Civil Liberties Union against the state's "signature matching" law that has caused many of the rejected ballots and applications will be heard in court Tuesday.
Congress: Though both the House and Senate are out of session this week, there will still be some activity on Capitol Hill. Rosenstein will meet with House lawmakers Wednesday amid reports the deputy attorney general discussed wearing a wire around Trump and invoking the 25th Amendment. Rosenstein is set to have a private meeting with both the Republican and Democratic leaders from the House Oversight and Judiciary Committees to discuss the allegations, which Rosenstein claims are "absolutely false."
The Senate Judiciary Committee is also scheduled to hold a hearing Wednesday to consider judicial nominees. The judicial meetings have become a source of contention; all committee Democrats skipped a past meeting on Wednesday, protesting that the meeting should not have been scheduled while the Senate was on recess and calling the move "unprecedented." Committee chairman Chuck Grassley has refused to cancel the meetings; only four of the committee's 21 members attended the Wednesday meeting, which included testimony from six judicial nominees.
Members of Congress this week will also likely have to contend with the ongoing fallout from Khashoggi's death. A number of Senate Republicans have broken with Trump by condemning the Saudi Arabian government for the killing, stating that while a full investigation is needed, they believe Saudi Crown Prince Mohammed bin Salman directed the act and do not accept the Saudi government's story that Khashoggi's death was the result of a fistfight gone wrong. Lawmakers have already called for Saudi Arabia to face harsh consequences — including the potential removal of the crown prince — which could escalate this week as more details about Khashoggi's death are revealed.
John Bolton: White House adviser John Bolton is in Moscow this week, where he'll be meeting with senior Russian officials as part of a broader trip to Russia, Azerbaijan, Armenia and Georgia. The Russian trip comes amid reports that Trump is planning to pull out of a decades-long nuclear treaty with Russia — which the Guardian reported was at Bolton's urging — saying that Russia has "violated" the agreement.
According to CNN, the Russia media reported that Putin plans to meet with Bolton about the decision; a Kremlin spokesman said it is "likely that an explanation from the US will be required following the latest scandalous statements."
Summer Zervos: Though Stormy Daniels' lawsuit against Trump was recently thrown out in court, another lawsuit against the president is now moving forward. Former Apprentice contestant Summer Zervos, who alleges that Trump kissed and groped her without her consent, is currently moving forward with a defamation suit in New York state court against Trump's.
After a pre-trial hearing Thursday, in which Trump's lawyers claimed Trump has immunity in state court as a sitting president, another hearing will take place this week on what documents Trump's team is required to release. Zervos is asking the court to compel Trump to provide documents and information about other women who have accused Trump of sexual misconduct. According to the Guardian, that information could include any Apprentice material in which Trump discussed Zervos or other female contestants in an inappropriate way, as well as Trump campaign records on Zervos, other female accusers and the release of the Access Hollywood tape that caught Trump boasting about grabbing women "by the pussy."
Zervos claims that information about the other allegations is "material and necessary" for Zervos' legal team to rebut Trump's defamatory statements and claims that he has "never inappropriately touched any woman."