Today in Trump's America: Protests erupt as Trump seeks to "define transgender out of existence"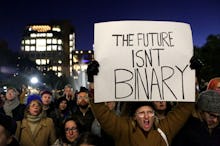 It's another Monday in Trump's America. With 15 days to go until the midterm elections, President Donald Trump is again on the campaign trail. After moving westward from Montana to Arizona to Nevada, he's now headed to Texas, where he'll campaign for his formal rival in the 2016 presidential campaign whom he accused of being a liar and the son of a man who was linked to the man who killed John F. Kennedy: Sen. Ted Cruz.
Here's what's happening in Trump's America:
• Trump's day begins at 11:30 a.m., when he'll receive his daily intelligence briefing.
About the weekend: Trump administration seeks narrower definition of gender
The New York Times reported Sunday that the Trump administration is considering changing the definition of gender to "a person's status as male or female based on immutable biological traits identifiable by or before birth" — a move that could end federal civil rights protections for transgender individuals.
According to a memo obtained by the New York Times, the Department of Health and Human Services wants to say that gender is "unchangeable," and that a person would have to provide genetic testing in disputes over their gender.
"The sex listed on a person's birth certificate, as originally issued, shall constitute definitive proof of a person's sex unless rebutted by reliable genetic evidence," the memo states, according to the New York Times.
The report sparked an outcry from Democrats and civil rights groups, who vowed to fight back against the policy with legal action and protests.
"The Trump administration once again displays their boundless cruelty by proposing yet another terrible, discriminatory policy," Sen. Kirsten Gillibrand (D-N.Y.) tweeted. "I want all transgender Americans to know that we will not let anyone erase you. We see you, and we will fight this."
The National Center for Transgender Equality plans to hold a protest outside the White House, scheduled to begin at 12:30 p.m. Monday.
The American Civil Liberties Union tweeted a legal threat against the Trump administration if it chooses to move forward with the policy.
"If the Trump administration dares to move forward with these hateful and hurtful policies against trans people, we'll see them in the courts and in the streets," the ACLU tweeted Sunday afternoon. "We'll fight back against any efforts to use trans people as political pawns."
Transgender activists and journalists are also speaking out, including Mic's own Serena Daniari, a transgender woman who writes a column about trans issues.
"This purported measure sends a disturbing message to trans individuals," Daniari wrote Sunday in an essay. "It suggests our lived experiences are not enough to prove we exist. It implies we are liars, and ultimately perpetuates a false narrative of delusion and mental illness."
Daniari continued, "Regardless of any legal designation, trans identities are not up for debate or renegotiation. Trans people are real. Our existence is proof enough."
Today in Trump's America: Trump continues spewing lies and falsehoods at campaign rallies
Trump spent the weekend on the campaign trail, where he spewed multiple falsehoods and outright lies as he sought to build support for Republicans facing a tough midterm election environment.
In true Trump fashion, many of his comments were outright lies, including pointing to nonexistent "riots" in California, as well as the false notion that Democratic policy is to give luxury cars to undocumented immigrants.
Trump also grossly exaggerated the number of jobs that could be lost if the United States cancels an arms deal with Saudi Arabia. Leaders in the country are accused of killing Saudi dissident and Washington Post journalist Jamal Khashoggi.
Trump even claimed an opioid bill that passed with almost unanimous support in Congress passed with "very little Democratic support."
Trump's baseless lies are easily verifiable. Yet he continues to churn them out in front of large rally crowds, whom he's primed to believe him over the media, which he calls "fake news" and has deemed the "enemy of the people."
And the rest...
Midterm consequences: If Democrats retake control of the House in November, they plan to reopen the Russia probe that the GOP-controlled House Intelligence Committee closed earlier this year. Democrats have slammed the investigation, headed by committee chairman Devin Nunes (R-Calif.), calling it a sham.
Bait and switch: A member of the 15-man Saudi security team that is believed to have killed Saudi Arabian dissident and journalist Jamal Khashoggi, was spotted on security footage leaving the Saudi consulate in Turkey, where Khashoggi is suspected of being killed wearing Khashoggi's clothes, a fake beard and glasses — seemingly trying to look like Khashoggi, CNN reported.