Hype Daily: Laverne Cox responds to Trump's anti-trans memo and more entertainment news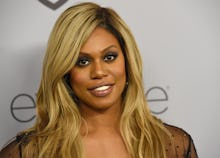 Good morning readers and welcome to Monday. Whether your weekend was relaxing and rejuvenating or hectic and stressful, you made it regardless. Let's get into the day's news.
Laverne Cox responds to the Trump administration's anti-trans memo
News that the Trump administration is considering a move to define gender as determined solely by biological sex — essentially erasing the entire trans and nonbinary community — sent shockwaves across the country on Sunday. The New York Times, which broke the story, reported that a draft of a memo from the Department of Health and Human Services said in part, "The sex listed on a person's birth certificate, as originally issued, shall constitute definitive proof of a person's sex unless rebutted by reliable genetic evidence."
This memo, in addition to flying in the face of the medical and scientific community, threatens to undermine years of progress by trans activists and advocates. In a series of tweets Sunday, groundbreaking activist and actress Laverne Cox responded to the news.
"We must not give up the fight," she wrote. "But in the face of this affront on my existence and the existence of my community I choose love not fear. We exist and always have. ... This latest administration effort to legislate trans folks out of existence is yet another example of why the fight for gender equity must be intersectional and necessarily must include trans folks."
Your weekend box-office roundup
There's a lot of bad stuff going on in the world, so you better believe a ton of people went to the movies this weekend. The highly anticipated horror reboot Halloween dominated the box office, taking in some $77.5 million in ticket sales in the U.S. and Canada, the Associated Press reported. That earns it the second-highest horror opening of all time, according to the AP, after 2017's It.
The romantic drama A Star Is Born took second place at the box office, and hit $200 million in global earnings over the weekend, according to Variety. And Venom finished in third in domestic earnings over the weekend, another strong showing for the action film — despite the many, many negative reviews.
Selma Blair reveals she's been diagnosed with multiple sclerosis
In a powerful Instagram post on Saturday, actor Selma Blair revealed her multiple sclerosis diagnosis — saying she was moved to go public because of the gratitude she felt for an on-set costumer who helped her with all the tasks involved in getting dressed.
"By the grace of the lord, and will power and the understanding producers at Netflix, I have a job," Blair wrote. "A wonderful job. I am disabled. I fall sometimes. I drop things. My memory is foggy. And my left side is asking for directions from a broken gps. But we are doing it. And I laugh and I don't know exactly what I will do precisely but I will do my best. Since my diagnosis at ten thirty pm on The night of August 16, I have had love and support from my friends."
She went on to say that, "I am in the thick of it but I hope to give some hope to others. And even to myself. You can't get help unless you ask. It can be overwhelming in the beginning. You want to sleep. You always want to sleep. So I don't have answers. You see, I want to sleep. But I am a forthcoming person and I want my life to be full somehow. I want to play with my son again. I want to walk down the street and ride my horse. I have MS and I am ok. But if you see me , dropping crap all over the street, feel free to help me pick it up. It takes a whole day for me alone."
In the post, Blair also thanked her friends, including Sarah Michelle Gellar and Freddie Prinze Jr. Read the whole post here.
Netflix cancels Luke Cage
Late on Friday, Netflix revealed it was canceling Luke Cage, Deadline reported. The show is the second of Netflix's Marvel Cinematic Universe-related original series to bite the dust — Iron Fist was canceled earlier in October.
"Unfortunately, Marvel's Luke Cage will not return for a third season," Netflix and Marvel said in a joint statement on Friday, according to Deadline. "Everyone at Marvel Television and Netflix is grateful to the dedicated showrunner, writers, cast and crew who brought Harlem's Hero to life for the past two seasons, and to all the fans who have supported the series."
Deadline reports that the somewhat unexpected cancellation was partly a result of "creative differences" between showrunner Cheo Hodari Coker and the execs at Netflix and Marvel. Of course, there's always the possibility that Luke Cage could make a comeback on Disney's new streaming service, once that finally launches.
Put this on your radar: Chilling Adventures of Sabrina
Speaking of Netflix, it's finally premiere week for the new dark teen series Chilling Adventures of Sabrina, which drops on the streaming service on Friday. If you watched the Sabrina series with Melissa Joan Hart... this is nothing like it. By all accounts, this Sabrina iteration is a genuinely scary, and explicitly feminist version of the teenage witch's story. Can't wait.
This has been Hype Daily, Mic's morning entertainment roundup. It's everything you need to catch up on in the entertainment world and what to look forward to today. Want to receive this as a daily email in your inbox? Subscribe here.