Sharice Davids becomes Kansas' first lesbian, Native American member of Congress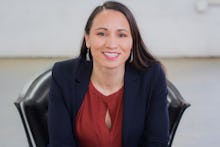 Sharice Davids, an attorney who worked as a fellow in former President Barack Obama's White House, defeated incumbent Republican Rep. Kevin Yoder in Kansas' 3rd District on Tuesday. Her victory makes her the first lesbian congresswoman from the Sunflower State.
Davids beat Yoder 54% to 43%, with 23% of precincts reporting, when NBC called the race. She's now one of the first Native American women elected to Congress, a milestone shared with Deb Haaland, another Native American woman who won her bid to represent New Mexico's 1st Congressional District on Tuesday.
Davids' victory in a district that encompasses Kansas City and its surrounding suburbs is a sign college-educated suburban voters are turning away from the Republican Party. Hillary Clinton carried this district by a slim 1-point margin in 2016.
Throughout her campaign, Davids played up her story as a lesbian and Native American MMA fighter.
Democratic outside groups, meanwhile, aired attack ads playing up Yoder's votes to repeal the Affordable Care Act and enact a controversial tax cut that disproportionately benefited wealthy Americans.
Republican groups abandoned their ad spending in the district in early October and shifted their funds elsewhere, a sign they no longer viewed Yoder's re-election as viable.
The groups had been running scare-tactic ads against Davids, calling her a "radical left-wing" and anti-police politician.