"He is wholly owned by the NRA": Andrew Gillum and Ron DeSantis spar over gun rights in debate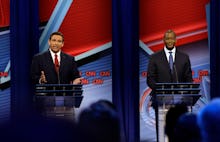 Under the hot lights of CNN's debate stage in Tampa on Sunday night, Florida's gubernatorial candidates went round for round in a contentious matchup with just over two weeks to go until the Nov. 6 midterm elections.
While the two candidates — former U.S. Rep. Ron DeSantis, a Republican, and progressive Tallahassee Mayor Andrew Gillum — sparred over everything from health care to climate change to immigration, one of the night's most compelling moments of the debate came when Gillum accused DeSantis of being bought and paid for by the National Rifle Association.
"He is wholly owned by the NRA," Gillum said at one point, referring to his opponent. "He's not going to stand up to the National Rifle Association — that's why they're running all these ads against me. Because they want the man that they bought."
The comments came in response to questions about the state's preparedness and response in the wake of a school shooting in February at Marjory Stoneman Douglas High School in Parkland, Florida, where 17 students and faculty members were killed.
In the intervening months, a wellspring of grassroots interest around gun control legislation has continued to shape the political conversation in Florida. In March, the state passed legislation to raise the minimum age to buy shotguns and rifles from 18 to 21, and also banned "bump stocks," the controversial gun modifications that enable semi-automatic rifles to fire at a faster clip.
Sunday night's debate reflected the larger national dynamics at play in the Florida gubernatorial election, with both candidates repeatedly invoking President Donald Trump and his policies.
At various points throughout the night, Gillum referred to DeSantis as a "stooge" and an "acolyte" of Trump, criticizing the Republican candidate over his stated commitment to carrying out the president's agenda.
"Donald Trump is weak," Gillum said. "And he performs as all weak people do: They become bullies, and Mr. DeSantis is his acolyte. He's trying out to be the Trump apprentice at every turn. He's tweeting at him and he's talking to him. He's showing up. He's complimenting him."
When pressed by the debate's moderator, CNN's Jake Tapper, on whether he believes Trump to be a good role model for children, DeSantis pivoted to his approval of Trump's decision to relocated the U.S. Embassy in Israel from Tel Aviv to Jerusalem. After being pressed by both Gillum and Tapper to address the question head-on, DeSantis said that being "able to work with the president," is an important requisite trait for Florida's next governor — one that Gillum lacks.
"Andrew can't do that," DeSantis said. "He wants to impeach Trump, he's always saying bad things about him ... I think I will be better positioned to advance Florida's priorities because I have a productive relationship with the administration."
Shortly after the two candidates won their respective primary contests in August, the race took on an unfortunate racial tenor after DeSantis warned voters during a cable news appearance not to "monkey this up" by voting for Gillum — who, if elected, would become the first black governor of Florida.
On Sunday night, Gillum accused DeSantis of injecting a racial element into an already heated race.
"He has only continued in the course of his campaign to draw all the attention he can to the color of my skin," Gillum said. "The truth is, I've been black all of my life. So far as I know, I will die black."
But DeSantis vehemently denied having any sort of racial bias. "Floridians can know that I'll be a governor for all Floridians," he told the crowd.