Mic Daily: Trump calls Ted Cruz "beautiful Ted" — and other news of the day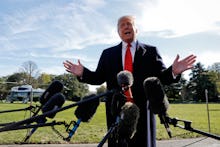 Good evening folks, and a very happy Monday to you. Here are the five top stories out of Mic today, including a powerful essay in response to the New York Times report on the Trump administration's move to erase transgender and nonbinary identities.
Speaking to reporters on Monday, President Donald Trump addressed — kind of — previous comments he made about Texas Sen. Ted Cruz. You know, that time Trump said Cruz was a liar whose father was implicated in the assassination of former President John F. Kennedy. That ol' thing.
A group of young Americans sued the Trump administration for failing to act on climate change, thus having "violated the youngest generation's constitutional rights to life, liberty and property" — but the Supreme Court has stopped the lawsuit in its tracks. Temporarily, anyway.
This one's from over the weekend, but it's worth reading if you have yet. After news broke Sunday that the Trump administration is working to redefine and inextricably link sex and gender under Title IX — essentially erasing transgender and nonbinary identities — Mic correspondent Serena Daniari penned an essay in response.
"This purported measure sends a disturbing message to trans individuals," Daniari said. "It suggests our lived experiences are not enough to prove we exist. It implies we are liars, and ultimately perpetuates a false narrative of delusion and mental illness."
Sunday night, Florida's gubernatorial candidates — former U.S. Rep. Ron DeSantis and Tallahassee Mayor Andrew Gillum — faced off in a debate ahead of the midterm election in November.
At one particularly tense point, Gillum accused DeSantis of being "wholly owned" by the National Rifle Association.
In a new interview on Howard Stern's Sirius XM radio show, comedian Sarah Silverman shared that her pal and admitted sexual abuser Louis C.K. masturbated in front of them when they were "kids" — consensually.
"When we were kids, and he asked if he could masturbate in front of me, sometimes I'd go, 'Fuck yeah I want to see that!'" she said.