Stories That Pay Off: The Mega Millions jackpot is now over $1 billion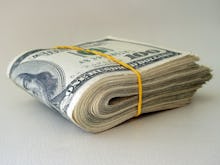 Money, money, money, money... money. (Like the song.) The Mega Millions jackpot has climbed to a staggering $1.6 billion — and a person has yet to claim the winning numbers.
Last week, Mic reported about previous lotto winners, and what they decided to do with their riches — a "where are they now?" if you will. Three couples ended up splitting $1.586 billion in 2016, yielding $327.8 million each, before taxes.
Here's where they stand:
Would you use your winnings to pay off your mortgage and live comfortably? Or would you go big and put the money toward a mighty mansion? The winning couples of 2016 all spent their cash a little differently.
Beyond gambling for the big bucks, Mic explored how Canada's new pot laws could be creating new jobs, the financial costs associated with being a plus-size bride, and how to go on a honeymoon for free — even if you don't win the lottery.
Bridal boutiques consider anything over 12 to be plus size, while the average size of women in the United States is a 14. Plus-size brides are actually in the majority. How broken is an industry where the majority of its customers are too big for its dresses?
If you don't win the lottery but you do want to go on a lavish honeymoon, you don't necessarily have to go into debt to do so. Here's how one couple relied on credit card points alone to plan the trip of their newlywed dreams.
Canadians aren't wasting any time on the country's new, more liberal marijuana laws. One university is offering a course that could help its students profit off the burgeoning pot industry.