A blue wave or a ripple?: How to watch midterm results as they come in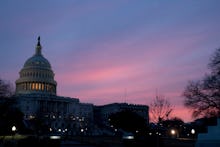 We're one day away from the midterm elections — the results of which will have major consequences for President Donald Trump and his administration in the second half of his presidential term.
Polls show a Democratic wave building, with forecasters saying that the Republican House majority is at serious risk. GOP gains in the Senate are expected to be small, despite an incredibly favorable map for Republicans.
The question on everyone's mind hours before voters head to the polls is how big the anticipated blue wave will be. Here's what to watch as polls close in different time zones across the country to know early whether it will be anything from a blue tsunami to a smaller ripple.
6 p.m. Eastern
The first polls in the country close at 6 p.m. Eastern in parts of Kentucky and the vast majority of Indiana. If we're going to see a blue tsunami, then two GOP-held districts in Indiana will either be close or may be on the verge of flipping: Indiana's 2nd and 9th Districts.
President Donald Trump carried the 2nd District district by a 23-point margin in 2016, and GOP Rep. Jackie Walorski by nearly the same spread that year. The race is currently rated a "Likely Republican" contest by the non-partisan political tracking outlet Inside Elections.
The 9th District, however, isn't rated competitive, and Trump carried it by a 27-point margin in 2016. Yet the district includes Bloomington, home to Indiana University. In 2008, when former President Barack Obama won the state of Indiana in the presidential election, it was partly thanks to massive turnout in Bloomington by college students and educated suburbanites. Freshman GOP Rep. Trey Hollingsworth is facing his first re-election against Democrat Liz Watson, an attorney and former congressional aide. It's the exact kind of area that would see outsized turnout in a blue tsunami.
In Kentucky, if Democrat Amy McGrath is winning the state's Lexington-based 6th District against GOP Rep. Andy Barr, then it's a sign the Democratic wave is materializing. Republicans say that while McGrath was winning earlier this summer, Barr's numbers have since risen, and they are feeling better about Barr's odds. So if McGrath is tied or ahead, then it's a good indicator that the outlook is strong for Democrats. If McGrath losing by large margins, then the blue wave may be dying down to a ripple.
7 p.m. Eastern
The next wave of closures is at 7 p.m. Eastern, with Florida (save for a chunk of the Panhandle), Georgia, South Carolina, Vermont and Virginia.
If it's a tsunami, look to a trio of Republican-held House races in Florida: the 15th, 16th and 18th Districts.
All three districts are currently rated "likely Republican" races by Inside Elections, but in a tsunami, these seats could fall. Trump carried all three by 10, 11 and 9 points, respectively. But these are traditionally Republican seats.
Georgia's 6th and 7th Districts also fall into the "likely Republican" category, and if Democrats are over-performing or even winning here, then it will look like a tsunami is building. The National Republican Congressional Committee, which seeks to elect Republicans to the House, released ads in the 6th District two weeks before the election — a sign they view the seat to be in play.
Georgia, however, is notoriously slow at counting votes, so it may not be apparent early on how these races are shaping up.
If it's a Democratic wave, then seats like Virginia's 7th District, where GOP Rep. Dave Brat finds himself in a "toss-up" race with Democrat Abigail Spanberger, will flip. Brat rose to national prominence in 2014, when he shocked political onlookers by ousting then-House Majority Leader Eric Cantor in a primary. But the 7th District — located in and around the Richmond suburbs — is now danger territory for the GOP, as suburban women turn away from the Republican Party in the Trump era.
If Democrats are underperforming, they'll certainly be having trouble in districts like Virginia's 10th. This seat, located in the Washington, D.C., suburbs, has been projected to flip for months, with GOP Rep. Barbara Comstock trailing to Democrat Jennifer Wexton. Inside Elections currently rates the race a "tilt Democratic" contest. If Democrats can't pick this seat up, it will be looking like a rough night nationwide for the party.
7:30 p.m. to 8 p.m. Eastern
Another huge swath of polls closing between 7:30 p.m. and 8 p.m. will help determine how good, or bad, of a night Democrats are having. They include North Carolina, Ohio, West Virginia, Maine, Michigan, New Jersey and Pennsylvania.
If it's a Democratic tsunami, look for the party to be over-performing or possibly winning in Ohio's 14th District and Pennsylvania's 10th District. Trump carried both districts by an 11-point and 9-point margin, respectively.
But these are the kind of Rust Belt seats that could be swinging back toward Democrats two years into Trump's tenure. And there are signs that they are becoming less friendly to Trump, with GOP Rep. David Joyce in Ohio's 14th actually running ads distancing himself from the president. Democrats are also spending money on the airwaves in Pennsylvania's 10th District, a sign they see the race as winnable.
If Democrats pick up either of these seats, it will be a very good night for them.
If it's a blue wave, look to results in Ohio's 12th District. Democrats nearly won a special election in Ohio's 12th back in August. November's race is a rematch between the same two candidates in that election: now-GOP Rep. Troy Balderson and Democrat Danny O'Connor. If Democrats win here, the wave likely has materialized. The race is currently rated a "toss-up" by Inside Elections.
If it's a bad night for Democrats, then look to results in a handful of races in New Jersey. Currently, New Jersey's 3rd and 11th districts are in Inside Elections' "tilt Democratic" category. If the Democratic nominees in these seats are behind, then the much-vaunted Democratic wave isn't happening.
9 p.m. Eastern
By this point in the night, Democrats could be close to a House majority given the number of states that have closed.
If Democrats have picked up 15 or more seats at this point, then the Republicans majority is almost certainly gone. Democrats would need just eight more seats at that point, and between Arizona, California, Colorado, Illinois, Iowa, Kansas, Michigan, New York and Texas, there are a number of paths Democrats have to win control.
If Democrats are not near that number, then things are looking a little dicey for their hopes at House control.