With voter suppression issues plaguing Georgia, officials face fresh lawsuits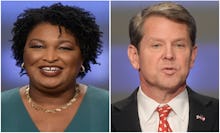 As Georgia residents continue casting early ballots in the November midterm elections, civil rights groups are holding the state's election officials accountable for policies they claim could result in voter suppression.
Civil rights groups and Georgia voters have filed multiple lawsuits against state and county officials concerning the state's voting laws, in particular its rules governing mail-in absentee ballots and Georgia's "exact match" policy, which requires voters' registration data to exactly match their information in state databases.
The lawsuits come amid reports of alleged voter suppression in Georgia ahead of the November midterms. Largely due to the "exact match" policy, over 53,000 voter applications have reportedly been put on hold ahead of Election Day, resulting in canceled registrations for such small errors as a missing hyphen. A Washington Post analysis found that policy, which passed the state legislature in 2017, could have even broader effects: 30% of registered voters, a disproportionate number of whom are black or Hispanic, are currently noncompliant.
Georgia's Gwinnett County has reportedly rejected hundreds of absentee ballots, more than half of which were cast by voters of color; officials in Jefferson County recently forced 40 black seniors off a bus taking them to vote.
Meanwhile, the state has purged 1.4 million voter registrations since 2012, including nearly 670,000 canceled registrations in 2017. Georgia has also closed 214 voter precincts across the state since 2012, and the state currently provides inaccurate voter registration forms that falsely claim voters must provide proof of residence on their registration.
Georgia is also one of 34 states with laws requiring voters to show some form of identification at the polls. Voter ID policies have been linked to voter suppression, particularly for people of color.
The recent headlines come amid a close gubernatorial race between Stacey Abrams, who is running to become the first black woman governor in the country, and current Georgia Secretary of State Brian Kemp. It's Kemp's office that is responsible for many of these voter suppression efforts; on Oct. 11, Abrams called for his resignation in light of the reports on the pending voter registrations.
"The miasma of fear that is created through voter suppression is as much about terrifying people about trying to vote as it is about actually blocking their ability to do so," Abrams said on CNN's State of the Union.
The two candidates are currently at a dead heat in the polls; one released Oct. 11 by the Atlanta Journal-Constitution/Channel 2 Action News showed Kemp holding a narrow 47.7% to 46.3% lead, which is within the poll's margin of error.
Absentee and mail-in ballot lawsuits
Two lawsuits have taken Georgia officials to task for the state's rejection of absentee ballots and argue such policies violate the due process and equal protection clauses of the 14th Amendment.
A lawsuit filed against state and Gwinnett County officials by the Coalition for Good Governance and individual Georgia voters is concerned with the general rejection of absentee ballots, which could result from such small errors as a discrepancy between a voter's signature on the ballot and their signature on file or by accidentally entering the current date instead of the voter's birth date.
"The penalty for even the smallest clerical error or a question about the voter's signature is disenfranchisement, with no meaningful opportunity to cure any perceived discrepancy," the lawsuit reads.
A separate lawsuit filed by the American Civil Liberties Union of Georgia with the Georgia Muslim Voter Project and Asian-Americans Advancing Justice-Atlanta specifically concerns the signature matching requirement, which is used in place of requiring ID for absentee ballots. The lawsuit, which was filed against Kemp and the Gwinnett County Board of Registration and Elections, notes signatures can vary for a variety of reasons, including "age, physical and mental condition, disability, medication, stress, accidents and inherent differences in a person's neuromuscular coordination and stance."
Both suits contend the absentee voting policies in particular disenfranchise groups such as the elderly, disabled, voters of color and non-native English speakers.
Under current state law, there's no time limit for informing voters their absentee ballot was rejected. The Coalition for Good Governance claims the state policy "provides no assurance that applicants will have enough time to resolve discrepancies."
The amount of time between being notified of a rejected ballot and the mail-in ballot deadline — 7 p.m. on Election Day, although ballots must be postmarked before Election Day — is "unfairly short," the Coalition for Good Governance suit alleges, and rejected ballots submitted shortly before the deadline "have little chance of being cured and counted."
Both lawsuits ask the state to extend deadlines for affected voters to address these discrepancies or errors; the ACLU suit requests voters whose ballots were rejected due to signature mismatch be allowed to prove their identity until three days after Election Day or three days after they are notified of the rejection, whichever is later. The Coalition for Good Governance suit requests voters be notified of their rejection within one day, that signatures be reviewed by a bipartisan signature team and that voters whose mail-in ballots were rejected be given until the Friday after Election Day to resolve the issue.
Similar measures already exist for other voting errors, such as voters who don't bring their IDs to the polls, the suits note.
"The plaintiffs brought this suit because the Georgia election officials, under the direction of Secretary Kemp, are rejecting perfectly valid ballots from eligible voters for arbitrary and capricious reasons and not giving the voters a reasonable opportunity to fix the perceived mistakes," lawyer Bruce P. Brown, who represents plaintiffs in the Coalition for Good Governance suit, said in a statement. "These election officials should want and encourage people to vote and help them cast a vote, but instead some are using everything at their disposal to deny these people — many of them elderly and disabled — this fundamental political right."
"Exact match" lawsuit
A coalition of civil rights groups filed a lawsuit against Kemp over the more than 53,000 pending voter registrations. Although many who were stopped from registering by the state's "exact match" policy can still vote by showing proper ID at the polls, the lawsuit concerns those who were incorrectly flagged as "potential non-citizens" and are subsequently required to show proof of citizenship at the polls.
According to the lawsuit, the "exact match" process relies on Georgia Department of Driver Services data that is not updated when a resident becomes a naturalized citizen, meaning many citizens registering to vote are falsely marked as non-citizens. Voters are then required to show proof of citizenship to a deputy registrar on Election Day — but since registrars aren't present at every polling location all the time, a voter could have to drive to a separate location, show their ID and then drive back to their polling place, which can be burdensome for some voters, including those who rely on public or shared transportation.
That policy particularly impacts black, Hispanic and Asian voters, the lawsuit notes.
"[Georgia voters'] fundamental right to vote on Nov. 6 is imperiled by no fault of their own, but rather by Kemp's continued use of the state's flawed exact match process," Danielle Lang, senior legal counsel of voting rights and redistricting at the Campaign Legal Center, said in a statement. The CLC, Lawyers' Committee for Civil Rights Under Law and Asian Americans Advancing Justice-Atlanta are representing the plaintiffs in the case.
The lawsuit was filed by organizations including the Georgia State Conference of the NAACP, Georgia Coalition for the People's Agenda and the Georgia Association of Latino Elected Officials. The groups are asking the court to compel the state to allow poll workers to check proof of citizenship from voters who are registered, as well as voters whose registration is pending because they were inaccurately flagged as non-citizens). The lawsuit also asks the court to order counties to post a list of "acceptable documentation to prove citizenship" on the Georgia Secretary of State website and at polling places on Election Day.
"All that is being sought is an order allowing eligible voters to vote by a process virtually identical to that of every other eligible Georgia voter: Let the poll workers check the required documentation," the lawsuit notes. "Plaintiffs merely seek to allow for proof of citizenship to be verified by poll workers in the same manner as proof of identity."