Salem Saberhagen walked the red carpet at 'The Chilling Adventures of Sabrina' premiere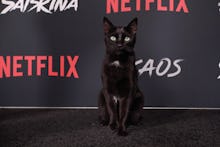 The entire cast of the new Netflix series The Chilling Adventures of Sabrina showed up to the series' premiere Friday night. We're talking the entire cast — including Sabrina's cat, Salem Saberhagen.
Saberhagen joined co-stars Kiernan Shipka, Miranda Otto, Tati Gabrielle, Michelle Gomez, Chance Perdomo and others at the event held at the Hollywood Athletic Club, but that's honestly enough about them.
Let's talk more about the cat.
In the Netflix series, Salem is a black cat that — unlike the version of Salem from the original Sabrina the Teenage Witch — does not talk but serves as Sabrina's familiar, a protector of witches that takes on animal form.
Saberhagen refused to be photographed with fellow cast members at the show's premiere, instead walking the carpet solo and posing for photographers with a blank stare, his small white patch of hair just below his neck proudly on full display.
Check out some pictures of Salem from the premiere, including the point at which he exposed his front teeth, a real wow moment.
Meet Salem in a clip from the show below: