In a new interview, Sarah Silverman says Louis CK masturbated in front of her with her consent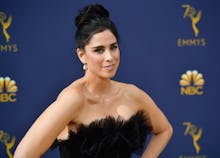 Comedian Sarah Silverman, a longtime friend of fellow comedian and abuser Louis C.K., said in an interview Monday morning on Howard Stern's Sirius XM radio show that C.K. masturbated in front of her with her consent.
After Stern asked Silverman about C.K., she responded, "I've known Louis forever, I'm not making excuses for him, so please don't take this that way. We are peers. We are equals. When we were kids, and he asked if he could masturbate in front of me, sometimes I'd go, 'Fuck yeah I want to see that!' … It's not analogous to the other women that are talking about what he did to them. He could offer me nothing. We were only just friends. Sometimes, yeah, I wanted to see it, it was amazing. Sometimes I would say, 'Fucking no, gross,' and we got pizza," Indiewire reported Monday.
Silverman said those encounters happened when the two were "letting our freak flags fly," and suggested C.K. might not have understood the power dynamics at play when he masturbated in front of other female comics without their consent.
"I'm not saying what he did was OK," Silverman told Stern, according to Variety. "I'm just saying at a certain point, when he became influential, not even famous, but influential in the world of comedy, it changes. He felt like he was the same person, but the dynamic was different and it was not OK."
In November, five woman accused C.K. of sexual misconduct in a report published in the New York Times. Shortly after, C.K. himself responded to the allegations in a statement also published in the Times, in which he said, "These stories are true. At the time, I said to myself that what I did was OK because I never showed a woman my dick without asking first, which is also true. But what I learned later in life, too late, is that when you have power over another person, asking them to look at your dick isn't a question. It's a predicament for them. The power I had over these women is that they admired me. And I wielded that power irresponsibly."
After the initial backlash to his behavior, C.K. has been attempting somewhat of a comeback, showing up at New York's Comedy Cellar for several impromptu sets — to the dismay of some patrons who have reportedly felt uncomfortable with his presence.
But in her interview with Stern, Silverman, who has spoken before about her friendship with C.K., seemed to indicate that she supported giving him a platform again.
"I'm not saying everyone should embrace Louis again," Silverman said, according to Indiewire. "I believe he has remorse. I just want him to talk about it on stage. He's going to have to find his way or not find his way."