"He's beautiful Ted": Trump says he doesn't regret saying Cruz's dad was part of JFK assassination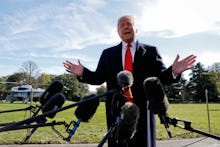 On his way to Houston to campaign for Sen. Ted Cruz, President Donald Trump says he has no regrets about the attacks he lobbed against the Texas Republican during the 2016 GOP presidential primary — including controversially calling Cruz a liar whose father was part of the assassination of former President John F. Kennedy.
The president was asked about his past attacks on Cruz as he departed the White House for the Cruz rally. In response to whether he still thinks Cruz should be called "lyin' Ted."
"He's not Lyin' Ted anymore," Trump replied. "He's Beautiful Ted."
Trump was then asked by CNN's Kaitlan Collins whether he has "regret" over saying that Cruz's father was part of the JFK assassination plot.
"I don't regret anything, honestly," Trump said. "It all worked out, very nicely."
Cruz seemingly forgave him for the insulting comments during the 2016 primary, phone banking for Trump's campaign in the general election — a moment that led to an infamous photo of Cruz looking pained as he made calls to get out the vote for the now-president.
Trump is holding a rally in Houston on Monday night for Cruz, who is facing a tougher-than-expected race against Democratic Rep. Beto O'Rourke.
O'Rourke has broken fundraising records, bringing in tens of millions in a bid that's ignited Democrats in Texas and across the country with a message of rejecting money from special interest political action committees, and standing up to police violence against black Americans.
Cruz, however, still holds a lead in polling, in part thanks to Texas' strong Republican lean.