Hype Daily: Pete Davidson jokes about his split from Ariana Grande and more entertainment news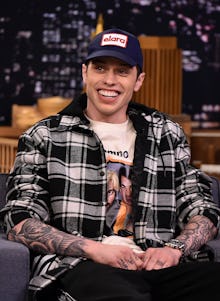 Good morning Hype Daily readers and welcome to Tuesday! Let's hop on the express train to today's entertainment news, OK?
At a standup set, Pete Davidson cracked jokes about his breakup with Ariana Grande
Apparently, Pete Davidson is ready to laugh about his brief but intense relationship with singer Ariana Grande after the two split and called off their hasty engagement earlier in October. At a standup set at the Largo in West Hollywood, California, on Saturday, Davidson cracked some jokes about his breakup. "Well, as you could tell, I don't want to be here," he reportedly told the crowd, according to the Los Angeles Times. "There's a lot going on. Does anybody have any open rooms? Looking for a roommate?"
Davidson was performing as part of an event called Judd Apatow's Judd & Pete for America, a "voter benefit for Swing Left," the Los Angeles Times reported. He also reportedly alluded to his Grande-inspired tattoos, saying that he's "been covering a bunch of tattoos." No reports as to whether anyone in the crowd actually offered Davidson a place to crash.
Amy Schumer announces she's pregnant
Comedian Amy Schumer revealed she's pregnant on Monday night — but she made the announcement in a pretty creative way. First, she Instagrammed a photo of Prince Harry and Meghan, Duchess of Sussex (they're also pregnant) except she replaced their faces with those of her and her husband, chef Chris Fischer. The caption on the photo told fans to check out journalist Jessica Yellin's Instagram account for "some exciting news."
That news turned out to be a list of Schumer's voting recommendations midterm races across the country, the Guardian reported. And then at the very, very bottom of the list was the message "I'm pregnant - Amy Schumer." Congrats, Amy!
Guillermo del Toro is making a stop-motion Pinnocchio movie
File this under "things that will definitely give me nightmares." Variety reported on Monday that Oscar-winning director Guillermo del Toro is working on a "stop-motion musical version" of the Pinocchio story for Netflix.
Del Toro's new version of the classic story will be set in 1930s Italy, "a particularly fraught historical moment and a time when fascism was on the rise and Benito Mussolini was consolidating control of the country," as Variety pointed out. Sounds incredibly unsettling!
Netflix plans to take on $2 billion more in debt
Speaking of Netflix, the streaming giant reportedly plans to "take on $2 billion in new debt" to continue to fund its ambitious plans, which include lots more original content, CNN Business reported on Monday. I'm not exactly sure what that means, or what "unsecured bank notes" have to do with Stranger Things, but the takeaway is that Netflix isn't playing around.
The numbers behind the scenes at the streaming service are gargantuan — according to CNN, analysts estimate that Netflix could spend a total of $13 billion on content in 2018 — above the company's own estimate of $8 billion. That's a lot of new shows and movies.
Put this on your radar: Cardi B doing ASMR
It looks like rapper Cardi B is a big fan of autonomous sensory meridian response videos — or ASMR, an entire internet video genre of quiet noises meant to tickle your brain when you listen.
So Cardi went ahead and made her own ASMR video, produced by W Magazine — it's just 13 minutes of Cardi whispering into two separate microphones, talking about herself and occasionally purring "Okurrrr" into one of the mics. Check it out here.
This has been Hype Daily, Mic's morning entertainment roundup. It's everything you need to catch up on in the entertainment world and what to look forward to today. Want to receive this as a daily email in your inbox? Subscribe here.