Julia Roberts, Jeff Goldblum and Constance Wu take home top honors at 2018 InStyle Awards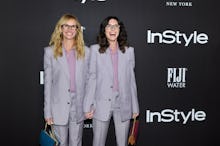 On Monday evening at the Getty Museum in Los Angeles, nine of today's biggest style stars were celebrated at the 2018 InStyle Awards, including Julia Roberts and Jeff Goldblum.
Roberts took home the night's biggest honor, the style icon award, wearing Givenchy. She attended the awards in a lilac Givenchy suit, arm-in-arm in matching suits with her stylist Elizabeth Stewart, who took home stylist of the year.
"When you're popular and tall, you just have these incredibly smart people to your house with racks of stunning things," Roberts told the crowd, which included Tracee Ellis Ross, Awkwafina and Trace Lysette. "And so, this award is for being good at saying, 'Oh, I think that, that one,'" Roberts explained. "I went from pointing at the right stuff. That's honestly the whole thing. I never go shopping. I just said I wanted to wear these shoes and that makes me somehow great in a very pretend way."
She continued: "If I were to take any credit, I would thank 22-year-old version of me, who wore, ad nauseam, a sort of, like, high-ranking naval jacket that I found at a vintage store with inexplicable black-and-white horizontal striped leggings and thought I was fantastic. For that girl, I thank you."
Goldblum, meanwhile, took home the night's man of style award.
"A lot of what I'm credited with comes from the reflected elegance and grace that comes from being in any way associated with or near her," Goldblum told the crowd about his wife Emilie Livingston. "Now more than ever with our current situation we need women to save us and to conspicuously exhibit their power and leadership."
Other winners included Givenchy creative director Clare Waight Keller, who won fashion designer of the year and stylist Karla Welch who nabbed the award for voice of style. Jennifer Aniston's hairstylist Chris McMillan won hairstylist of the year, and James Kaliardos took home the award for makeup artist of the year. Constance Wu won the badass woman award.
Check out pictures from the red carpet below:
Julia Roberts and Elizabeth Stewart
Tracee Ellis Ross
Tess Holliday
Trace Lysette
Jeff Goldblum and Emilie Livingston
Rebel Wilson
Tommy Dorfman
Hari Nef
Busy Philipps
Constance Wu
Lizzy Caplan
Awkwafina
Lily Collins
Storm Reid
Allison Janney
Olivia Culpo
Laverne Cox
Lea Michele
Connie Britton
Jennifer Aniston
Maye Musk
Ellen Pompeo