The next iPhone XS and XR software update will address skin smoothing in selfies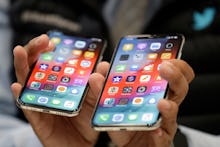 If you've used Apple's latest iPhone to snap a selfie, you may have noticed your skin looking a bit clearer than usual — maybe unrealistically so. With the upcoming iOS 12.1 update, that's about to change.
According to the Verge, Apple will tweak its software so that photos shot with the selfie camera won't overly smooth subjects' skin. Apple told the Verge that it plans on fixing the issue in an upcoming update.
"During our iPhone XR review, Apple told me that iOS 12.1 will fix a bug in its smart HDR camera system that resulted in smoother-looking photos taken by the front camera on the iPhone XS and XR," Nilay Patel, Verge's editor-in-chief, said in the article.
Users first noticed that selfies taken with Apple's iPhone XS and XS Max devices looked different than those taken with previous Apple handsets. The front-facing camera on the newest iPhone smooths out tiny blemishes and inconsistencies on the face, a look reminiscent of beauty filters in apps like Snapchat and Instagram. Unlike social media apps, however, the iPhone XS' skin-smoothing feature isn't an optional one.
In reference to the naming scheme of antennagate and bendgate from years prior — both references to the iPhone 4's reception issues and the iPhone 6's build quality, respectively — the iPhone XS selfie issue has come to be known as beautygate.
Interestingly, the iPhone XS has the same 7-megapixel, front-facing camera as the iPhone X before it. Apple's newest phones however, the iPhone XS, XS Max and XR, produce a different-looking photo.
The iPhone uses HDR to quickly take multiple photos of one image and blend together the best parts. The camera's skin smoothing, which is now deemed a bug, was a result of the Apple's new Smart HDR feature choosing the wrong base layer when taking a selfie, the Verge noted.
Apple's iOS 12.1 update doesn't have an announced release date at the moment for general consumers. Those part of Apple's public beta program can gain access to the new software right now.