Police find bomb at philanthropist George Soros' New York home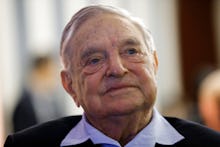 A bomb was found in the mailbox of philanthropist George Soros' home in the New York City suburbs, law enforcement officials told the New York Times.
A bomb squad team "proactively detonated" the device, and no one was injured, the New York Times reported. The FBI is investigating.
Soros has become a favorite target of Republicans in the Trump era. Right-wing politicians, including President Donald Trump and his eldest son, have baselessly accused Soros of nefarious plots to pay protesters — including the thousands who came out to oppose now-Supreme Court Justice Brett Kavanaugh.
"The very rude elevator screamers are paid professionals only looking to make Senators look bad," Trump tweeted on Oct. 5, ahead of Kavanaugh's confirmation. "Don't fall for it! Also, look at all of the professionally made identical signs. Paid for by Soros and others. These are not signs made in the basement from love!"
Donald Trump Jr., the president's eldest son, has tweeted baseless conspiracies that Soros was behind the protests in Ferguson, Missouri, back in 2014, and that Soros was behind the Kavanaugh protests.
Florida GOP Rep. Matt Gaetz even accused Soros of funding the migrant caravan Republicans are using to appeal to the Republican base's racist proclivities to vote in the midterms.
"BREAKING: Footage in Honduras giving cash 2 women & children 2 join the caravan & storm the US border @ election time," Gaetz tweeted. "Soros? US-backed NGOs? Time to investigate the source!"
One of the most incredible and baseless allegations levied against Soros comes from former Missouri GOP Gov. Eric Greitens, who resigned in disgrace after sexual misconduct and blackmail allegations against him surfaced. Greitens accused a prosecutor of being motivated by cash given to her by groups connected to Soros.
"Kim Gardner has received more than $200,000 from George Soros groups," Cooper said in the statement. "Missourians should see this for what it is, a political hit job. This law has never been prosecuted in this way and it is safe to say if Eric Greitens wasn't governor, it wouldn't have been this time either."