Sarah Silverman apologizes after telling her Louis CK masturbation story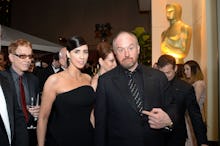 Hours after telling Howard Stern in an interview that her longtime friend Louis C.K. masturbated in front of her with her consent, comedian Sarah Silverman apologized directly to one of C.K.'s accusers on Twitter.
Speaking on Stern's Sirius XM radio show on Monday morning, Silverman told the host, "I've known Louis forever, I'm not making excuses for him, so please don't take this that way. We are peers. We are equals. When we were kids, and he asked if he could masturbate in front of me, sometimes I'd go, 'Fuck yeah I want to see that!' … It's not analogous to the other women that are talking about what he did to them. He could offer me nothing. We were only just friends. Sometimes, yeah, I wanted to see it, it was amazing. Sometimes I would say, 'Fucking no, gross,' and we got pizza."
Silverman later implied that C.K. might not have understood the power dynamics involved when he masturbated in front of other female comedians without their consent. "When he became influential, not even famous, but influential in the world of comedy, it changes," Silverman told Stern. "He felt like he was the same person, but the dynamic was different and it was not OK." She also told Stern that she believed C.K. "has remorse" for his actions and should "talk about it onstage."
In a tweet on Monday, comedian Rebecca Corry — one of five women who spoke to the New York Times in an article published in November about their experiences being sexually harassed by C.K. — countered Silverman's view of the situation.
"To be real clear, CK had 'nothing to offer me' as I too was his equal on the set the day he decided to sexually harass me," Corry wrote. "He took away a day I worked years for and still has no remorse. He's a predator who victimized women for decades and lied about it."
The encounter with C.K. that Corry described to the Times happened while she was on set with him, filming a television pilot in 2005. "He leaned close to my face and said, 'Can I ask you something?' I said, 'Yes,'" Corry told the Times in a statement in 2017. "He asked if we could go to my dressing room so he could masturbate in front of me." Corry told the Times that she got angry and declined, bringing up C.K.'s child and pregnant wife. "His face got red," she recalled, "and he told me he had issues."
C.K. himself confirmed the Times report in a statement also published in the Times, in which he said, "These stories are true."
After Corry's tweet, Silverman replied directly to her. "Rebecca I'm sorry," she wrote on Twitter. "Ugh this is why I don't like weighing in. I can't seem to do press 4 my show w/out being asked about it. But you're right- you were equals and he fucked with you and it's not ok. I'm sorry, friend. You are so talented and so kind."
This isn't the first time Silverman has spoken about her friendship with C.K. — but it does seem to be the first time that her comments have garnered a direct response from one of C.K.'s victims.