Andrew Gillum concedes in Florida's closely watched gubernatorial race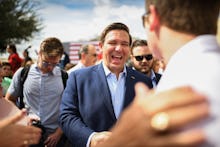 Republican Ron DeSantis has apparently defeated Andrew Gillum, the unapologetically progressive former mayor of Tallahassee, to win Florida's closely watched gubernatorial race on Tuesday night.
Gillum conceded around 11 p.m. on Tuesday after DeSantis declared victory after several networks, including CNN and NBC, called the race in his favor. His win comes in spite of a groundswell of support for Gillum during an ugly midterm contest marred by accusations of racism.
During the tense final months of the campaign to replace Rick Scott as Florida's next governor, the repeated accusations of racial pandering drew swift defenses from DeSantis' camp and condemnations from Gillum's.
During an appearance on Fox News after securing the Republican nomination, DeSantis warned Florida voters not to "monkey this up" by voting for Gillum, a black man.
Weeks later, DeSantis was forced to apologize yet again after Politico reported that Republican activist and megadonor Steven M. Alembik — who contributed more than $20,000 to DeSantis' campaign — had referred to former President Barack Obama as a "FUCKING MUSLIM NIGGER" on Twitter (Alembik is white).
During the first debate between the two candidates, which was aired by CNN in October, Gillum challenged DeSantis directly for the racial overtones that had come to dominate his campaign.
"He has only continued in the course of his campaign to draw all the attention he can to the color of my skin," Gillum said at the debate, addressing the audience in Tampa. "The truth is, I've been black all of my life. So far as I know, I will die black."
Gillum and DeSantis also notably sparred over gun reform — which has become increasingly popular in Florida in the wake of the school shooting in Parkland, Florida, in February that killed 17 students and faculty members — and over health care.