Nintendo is teaming up with the Institute of Play to give students a reason to play games in class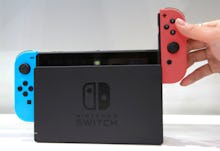 For many gamers, the Nintendo Switch is home to the latest Zelda, Mario and Pokémon games. Now, through a new partnership, it will be an educational tool, too.
On Tuesday, Nintendo announced a partnership with the Institute of Play, a nonprofit organization dedicated to promoting education through gaming. The two companies will make Nintendo's Labo cardboard creation kit available to schools at no cost. Labo is Nintendo's DIY line of cardboard games. Players can assemble a cardboard fishing rod or piano, for example, and use them to affect elements in the game. Other Labo mini-games allow players to build cardboard versions of a go kart, controllable toys or a robot players move with their entire body.
"We're providing each participating classroom with two Nintendo Switch consoles, two Labo variety kits and extra cardboard," Cindy Gordon, Nintendo's vice president of communications, told Mic in a call on Tuesday. "Our goal is to go from our pilot program of 11 classrooms to 100."
According to the initiative's site, the Institute of Play and Nintendo hope that the hands-on creation that Labo affords will encourage critical thinking and problem-solving, in addition to teaching students how to work in teams. The program will be available to students in grades two, three and four. Reaching 100 classrooms is just part of the initiative; the other part is achieving variety.
"We're looking to create a diverse group of schools," Arana Shapiro, co-executive director of Institute of Play, told Mic over the phone. "We want the right balance between urban, suburban and rural schools, both public and private."
The group has partnered with organizations like the Museum of Modern Art and Boys and Girls Club of America in the past. According to Shapiro, the institute also worked with the Department of Education to bring the building game Minecraft to the classroom.
Nintendo has partnered with several other organizations, too, including the National Association for Music Education. The two teamed up to implement Nintendo's Wii Music game as an educational tool in 2009. In 2010, Nintendo partnered with the American Heart Association to certify two of its games, Wii Fit Plus and Wii Sports Resort, as association-approved methods of staying healthy.
According to Gordon, the program will slowly roll out to more classrooms as the program expands. Teachers who haven't been tapped by Nintendo and the Institute of Play will soon be able to download Nintendo and IOP's official Labo guide.
"Many schools that are doing this aren't doing it with students at this age," Shapiro said. "We're really interested in seeing the ways students use Labo in the classroom that extends past the creations found on the box."
Nintendo's Labo classroom guide will be available to download later in the fall.