Donald Trump set to meet with Vladimir Putin again in November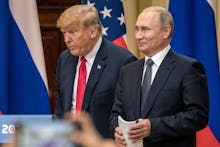 President Donald Trump will meet with Russian President Vladimir Putin again in November, national security adviser John Bolton said Tuesday after meeting with Kremlin officials.
According to Bolton, the two leaders plan to meet when they are in Paris on Nov. 11, where they will mark the the armistice of World War I.
The comments came after Bolton met with Putin and other top Kremlin officials following Trump's announcement that he would withdraw from the Intermediate-Range Nuclear Forces Treaty. The landmark accord was brokered by Ronald Reagan and Mikhail Gorbachev to address the threat of nuclear weapons.
We're going to terminate the agreement," Trump said Saturday. "We're going to pull out."
Trump's announcement has triggered fears of a nuclear arms race.
The president has met with Putin several times since taking office, including in the now-infamous Helsinki summit in July, during which he cozied up to the Russian strongman. It was there that he appeared to accept his denials of interference in the 2016 election, and also entertained a proposal to turn over a former American ambassador and others involved in enacting the Magnitsky Act — international sanctions loathed by the Kremlin.
Trump, who has pushed for a warmer relationship between Washington and Moscow, faced a firestorm of criticism for his performance in Helsinki. But Trump defended himself, countering that his "good relationship" with the strongman was a positive and that his performance in the summit was an example of strong "diplomacy."
Trump has been at the center of an FBI investigation into his campaign's ties to Russia. Robert Mueller, the special counsel leading the probe, is expected to issue his findings on questions of collusion and obstruction of justice after the midterm elections.
Bolton claimed in an interview on Monday that Moscow's interference didn't have a major impact on the 2016 election, and said he told his Russian counterparts that they shouldn't attempt to meddle again "because you're not advancing Russian interest."
Another Trump-Putin meeting has been anticipated since July, when the White House announced that the president had invited the Russian strongman to visit Washington in the fall — a move that apparently took key members of the Trump administration by surprise.
Trump tweeted at the time that a second meeting would allow the two leaders to "start implementing some of the many things discussed" at the first summit.
"There are many answers, some easy and some hard, to these problems," Trump tweeted. "But they can ALL be solved!"