Stacey Abrams defends decision to burn Georgia flag with Confederate insignia in 1992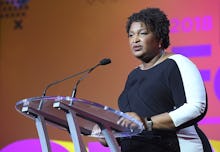 During the end of her freshman year at Spelman College in Atlanta, Stacey Abrams lit a torch and helped to set the state's flag, then emblazoned with Confederate imagery, ablaze.
In a statement provided to the New York Times on Monday, Abrams — now the Democratic candidate in Georgia's contentious governor's race — and her campaign defended the flag-burning as part of a "permitted, peaceful protest against the Confederate emblem in the flag," which stood for white dominance and slavery in the state.
"During Stacey Abrams' college years, Georgia was at a crossroads, struggling with how to overcome racially divisive issues, including symbols of the Confederacy, the sharpest of which was the inclusion of the Confederate emblem in the Georgia state flag," the statement read. "This conversation was sweeping across Georgia as numerous organizations, prominent leaders and students engaged in the ultimately successful effort to change the flag."
"Abrams' time in public service as deputy city attorney and as a state legislative leader have all been focused on bringing people together to solve problems," the statement continued.
The flag-burning was first reported on by the Atlanta Journal-Constitution in June 1992, and then again by the Times on Monday, just one day before Abrams was set to debate Brian Kemp, Georgia's outgoing secretary of state and her Republican rival in the gubernatorial race.
As the Journal-Constitution noted on Monday, the political climate in Georgia in 1992 that precipitated the flag burning was a volatile one. At the time, then-Gov. Zell Miller was mounting an unpopular campaign to strip the Confederate emblem from the state's flag — an initiative that ultimately resulted in him losing his subsequent re-election bid.
"We need to lay the days of segregation to rest, to let bygones be bygones, and rest our souls," Miller said at the time. "We need to do what is right."
In fact, it took another decade for a new governor, Roy Barnes, to finally lay the Confederate symbol-adorned flag to rest in 2003, but just one year later he, too, lost the governor's office after being ousted by Republican Sonny Perdue.
Georgia's poor track record on civil rights issues helps to explain why Abrams, throughout her career in public service, has long dedicated herself to franchising new voters. In 2014, she founded the New Georgia Project, an organization that seeks as its mission to register as many people of color and young voters as possible.
Kemp, meanwhile, is widely seen as an "architect of voter suppression" in the state, helping to codify new policies during his tenure as secretary of state that make it more difficult for people of color to vote.
With just two weeks to go until the 2018 midterm elections, Abrams — who, if elected, would become the first black woman governor in America, and Kemp, who is white, are currently locked in a statistical dead heat, according to RealClearPolitics.
On Tuesday night, the two candidates are scheduled to participate in their first and likely final public debate at 7 p.m. ET.