Andrew Zimmern: When government fails immigrants, the restaurant industry has to protect them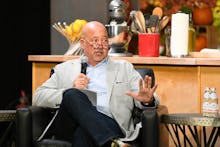 America would be "flavorless" without immigrants, restaurateur Marcus Samuelsson said recently while speaking on a panel about immigration and hospitality hosted by the New York City Wine and Food Festival.
In addition to Samuelsson, the panel hosted speakers Peter Kim, the executive director of the Museum of Food and Drink; Avigail Ziv, executive director of International Rescue Committee; and Andrew Zimmern, host of Travel Channel's Bizarre Foods franchise. Ana Navarro, political strategist and commentator, served as a moderator.
It's true that immigrants are responsible for some of the most delicious foods eaten around the country, but Samuelsson's sentiment speaks to not just the food we eat, but the working foundations of the hospitality and restaurant industries, too. "There's no way we could operate, I think, any business in this country without immigrants," the chef added.
There's evidence for this. While immigrants make up just 13% of the U.S. population, they comprise 31% of hotel staff and more than 20% of food service employees. And they're not just earning a paycheck, but handing them out, too: Immigrant entrepreneurs account for 37% of small restaurant owners and 43% of small hotel and motel owners. In other words, immigrants are an integral part of the U.S. economy.
Despite their immense contribution to the country's success, immigrants don't yield support from the current administration. President Donald Trump has previously referred to immigrants as "animals," and, most recently, has stirred up media frenzy over a group of 7,000 mostly Honduran migrants seeking asylum from life-threatening conditions. Rather than offer any support, Trump implied that there could be terrorists in the group.
If the government won't protect immigrants, who should?
As immigration policies are in flux, how can we better protect immigrants? "In terms of fixing what is broken, we can create new committees, we can create new organizations — we already have existing ones that are supposed to be speaking out for the whole industry," Andrew Zimmern, James Beard Award-winning TV personality, chef and author, who organized the panel, said in an interview with Mic. Zimmern said that groups like the National Restaurant Association are absent on this issue. But despite big industry silence, there is a more natural support for immigrants coming from consumers themselves, Zimmern said.
Zimmern suggested that even for its faults, capitalism is keeping this system in check. Consumers care about where their food comes from more than they have in the past. They want to have a clean conscience about what they're eating, and this doesn't just include better ingredients, but also improved supply chain rights and fair wages for those responsible for getting the food to the table. When they're not satisfied, consumers pressure big companies to change their ways, and ultimately, they must.
In 2002, 2,000 people joined together to boycott Taco Bell over its unfair treatment of workers. "The Taco Bell boycott was the seminal battle in the Coalition of Immokalee Workers' (CIW) Campaign for Fair Food," HuffPost reported. "Through the campaign, tomato pickers from the dirt-poor town of Immokalee, Florida, joined forces with consumers in a national alliance to demand real, measurable supply chain accountability from some of the world's largest retail food corporations." Years later, more than a dozen large corporations signed on to an agreement stemming from this boycott that led to better treatment of workers.
President Donald Trump has relied on immigrants for at least as long as he's been a business person. The real estate mogul could not sustain his 11 hotel properties without the hard work of people who weren't born in the U.S. — and he doesn't. "Show me the pedigree on the tomatoes in the Trump Tower — the restaurant there," Zimmern said. "I can tell you there are immigrants, [documented] and [undocumented], that touch that food all the way from where it's planted, picked, grown, processed, cooked and served." There's a hypocrisy that exists around jobs and immigrants, Zimmern said. Immigrants take the jobs that no one else wants, he continued, and their labor provides the commodities, services and nourishment that American business owners and consumers demand.
"A lot of people who live in this country — of all stripes and colors and everything — are like 'I'm not doing that job,'" Zimmern said of work like dishwashing and crop-picking. "There's an entitlement once you've been around here for a while," he continued, adding that people only take these seemingly undesirable jobs when they're experiencing hard times.
"It's incumbent upon a lot of us to offer up opportunity and make sure that opportunity is preserved for people," Zimmern said. "And that's why the hospitality industry is such a special industry, because not only do we disproportionately employ a large majority of [documented] and [undocumented] workers, but we disproportionately also afford them a success story and a path to that American dream."
Zimmern said he is a capitalist who believes in big businesses — an "odd socialist lefty," as he put it — because this is how progress can be made even when the government isn't on our side. In this current political climate, it's crucial for consumers to support their beliefs with their wallets. "When the government fails us, I think capitalism might end up saving us," he said.