'Vogue' apologizes for featuring photo of Kendall Jenner with what looks like an Afro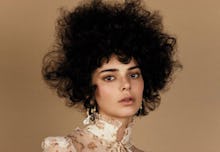 Eighteen months after finding herself embroiled in a racially charged controversy over a Pepsi commercial, Kendall Jenner is stirring up similar backlash over a new Vogue photoshoot featuring the model with her hair styled in what looks like an Afro.
"Why was her hair teased into a fro when you could use an actual model with natural hair?" one Instagram user asked. "Really an Afro on a caucasian model," another asked. "Stop doing this Vogue, it's getting ridiculous."
The image, which first appeared on the magazine's Instagram on Friday, was shot by Swedish photographer Mikael Jansson (who is white) and stylist Tonne Goodman (who is also white) for a shoot that Jenner participated in to honor the 15th anniversary of the CFDA/Vogue Fashion Fund.
On Monday, Vogue issued a statement to E! News apologizing for the photo.
"The image is meant to be an update of the romantic Edwardian/Gibson Girl hair which suits the period feel of the Brock Collection, and also the big hair of the '60s and the early '70s, that puffed-out, teased-out look of those eras," the statement read. "We apologize if it came across differently than intended, and we certainly did not mean to offend anyone by it." 
This is not the first time Vogue or Jenner have been accused of cultural appropriation. In 2017, Vogue Arabia came under fire for a cover featuring model Gigi Hadid in a hijab. Earlier that year, model Karlie Kloss apologized for dressing up as a geisha for a photo spread intended to celebrate diversity.
The Kardashian-Jenner clan, meanwhile, has a long history of cultural appropriation — so much so that Mic has created entire listicles dedicated to the subject.
On Wednesday morning Jezebel's Ashley Reese rebuked the idea that this was cultural appropriation in her story headlined "This Is Not a Fucking Afro," writing "it's clearly a throwback to the Gibson girl hairstyle from the turn of the 20th century. But even if you had no idea what that was, jumping to afro is an impressive leap."
Oct. 24, 2018, 3:20 p.m.: This post has been updated.