A look back at HallowQueen, one of New York City's most memorable queer Halloween parties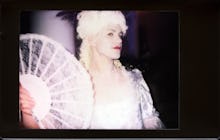 When Noah Rosenblatt first launched what would become HallowQueen in 2006, it was nothing more than a small gathering held in an apartment in the Chelsea neighborhood of New York City. In 2017, the crowd grew to more than 700 people. This year, when the party calls it quits after a decade, what began as a pre-game among friends before heading to a big Halloween party at the Roxy is expected to see over 1,000 in attendance.
In many ways, the party's success can be attributed to the Roxy's closing in 2007, which left a void in queer party spaces.
"I invited 30 friends over and had removed all the furniture from my living room and brought in bales of hay and just craziness and all of the sudden people started showing up in full costumes, people in roller skates, people dressed as chickens, it was out of control," Rosenblatt said in an interview. By the end of the night, he estimates that 100 people had come through.
After outgrowing the house party in 2008, HallowQueen was officially birthed, with its first party held at a now-closed yoga studio. In 2011, Rosenblatt brought in his then-boyfriend Vance Garrett, whose background in gay nightlife as a producer and promoter helped widen the scope of attendees. Together, they added a charity component to the party.
It began with Arms Around the Child, a charity which seeks to provide sanctuary to disenfranchised youth; they went on to work with organizations like the Tyler Clementi Foundation, Ali Forney Center and Gays Against Guns.
The party also switched up its venues over the years, moving around to the James A. Farley post office building (where Skylight at Moynihan Station is located), the top floor of the old New York Times building and the Kazino tent in Times Square.
"We've created this space where I think people feel like they can really be themselves," Rosenblatt said. "Part of it also is that we require costumes to come so you never feel out of place. Be whatever you are and people feel like it's just one upping each other for who can be more fabulous in their costume than the other person. I think we break down the barriers of any kind of body stereotypes or anything along those lines because it really is a gathering amongst friends and friends of friends."
"The best costumes are the ones where people let their ego go and get to be something completely different and who aren't taking themselves too seriously," Garrett said. "It reminds me of all the old club days, where half of the event was preparing for it and you could see how much care and dedication people put into it. It's just moving."
So why end what's grown to become an institution for gay nightlife around Halloween?
"It's been so successful of a party and I wanted to — potentially — end on a high," Rosenblatt said. "It's a lot of work and I don't think people really realize how much work goes into this event every year. And a small group of us have come back year after year to be able to produce it. But it's been a labor of love. And who knows? Maybe we'll be back next year but as of right now we're looking forward to seeing how great this year can be."