Trump admits he has "no proof" to back up his racist migrant caravan claims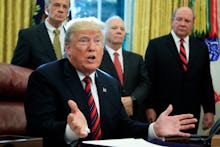 President Donald Trump acknowledged Tuesday afternoon that he has no facts to substantiate his claim that "criminals and unknown Middle Easterners" are part of the migrant caravan heading toward the United States.
Talking to reporters in the Oval Office, the president was pressed by CNN's Jim Acosta to back up his assertion. Trump relented, admitting that he had no evidence to support the claim.
"There's no proof of anything, but there could very well be," Trump said, according to Acosta.
The admission came a day after the president alleged "Middle Easterners" are part of the migrant caravan in a racially charged tweet.
"Sadly, it looks like Mexico's Police and Military are unable to stop the Caravan heading to the Southern Border of the United States," Trump tweeted Monday morning. "Criminals and unknown Middle Easterners are mixed in. I have alerted Border Patrol and Military that this is a National Emergy. Must change laws!"
Trump has spent days expressing outrage over the thousands of Central American marching toward the U.S. border in search of asylum, describing the caravan as an "assault" on the U.S. and using it to attack Democrats in the final stretch before the November midterms.
The president never offered any evidence to back up his claim that people of Middle Eastern descent — whom his statement falsely implies are inherently nefarious — were among the roughly 7,000 asylum-seekers. Nevertheless, the baseless claim was repeated by other members of his administration, including Vice President Mike Pence, who defended Trump's claim to the Washington Post earlier Tuesday.
The unsubstantiated claim about "unknown Middle Easterners" is just one unfounded assertion Trump has floated about the caravan. He has also repeatedly contended, without evidence, that Democrats have "led" the caravan and that "MANY CRIMINALS" are among the migrants.
Trump has said he will "begin cutting off, or substantially reducing, the massive amount of foreign aid routinely given" to Guatemala, Honduras and El Salvador, where many of the migrants are from. He has also threatened to deploy the military to the U.S.-Mexico border to address the matter.