Today in Trump's America: Lies and falsehoods from Trump grow as election nears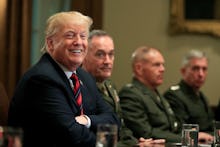 We've made it to the middle of the week, readers. If one of you is the lucky overnight billionaire from South Carolina after last night's lottery drawing, could you spare a few bucks?
Back to reality... Trump will spend most of his Wednesday traveling to Wisconsin, where he'll hold a campaign rally in Mosinee — a tiny town of about 4,000 people in the center of the state.
After winning Wisconsin in the 2016 election, Republicans hoped they could flip a Senate seat in the state by ousting Democratic Sen. Tammy Baldwin. However, Baldwin currently holds a double-digit lead over her GOP opponent, Leah Vukmir. Now in a surprising turn of events, it's Republican Gov. Scott Walker who is in much more trouble as he seeks a third term. Polls show Walker down against his Democratic opponent, Tony Evers.
Here's what's happening in Trump's America:
• It's another late start for Trump, whose first public event of the day is at 2 p.m., when he'll deliver remarks on the state of the opioid crisis.
About last night: Trump admits he has "no proof" of racist caravan claims
Trump — along with Vice President Mike Pence and other senior White House officials — has stoked the racial animus of the GOP base by claiming a migrant caravan headed for the U.S. has been infiltrated by "Middle Easterners" in an effort to scare Republicans into voting in the midterms.
But Trump admitted on Tuesday he had "no proof" of that claim — a rare admission that he's simply making things up.
"There's no proof of anything, but there could very well be," Trump told reporters in the Oval Office.
The claim of "Middle Easterners" infiltrating the migrant caravan is the latest ridiculous false claim Republicans have made about the caravan. Pence, for example, claimed on Tuesday the caravan was backed by leftists. It's not only a false claim, but a totally illogical one based on Republicans' own admission the caravan will help their party in the midterms. If the caravan is good politics for Republicans, as Trump says, why would Democrats be behind it?
It's unclear how the caravan will impact the midterms. But the GOP's focus on it is similar to Republicans' fear mongering over Ebola ahead of voting in 2014.
Republicans — including Trump — stoked fears of the deadly disease to get their base to the polls, and promptly stopped talking about it after the midterms passed, according to an analysis by Media Matters.
Today in Trump's America: Trump's lies and falsehoods grow as election nears
It's not just the caravan Trump is blatantly lying about as Election Day draws near. As he hits the campaign trail to boost Republicans' fate in the midterms, he's lying about a number of easily verifiable things.
For example, no one is "rioting" in California over sanctuary cities.
Also, the 10% middle class tax cut Trump says is coming before the midterms? He pulled that out of thin air. Congress is not in Washington to even pass such a law, and no law has even been written. Even Trump's economic adviser Larry Kudlow admitted Trump's mystical tax cut "may not surface for a while."
It's hard to single out the biggest whopper Trump has told, but certainly the most dishonest is Trump's claim Democrats want to take away health care and that it's Republicans who want to protect pre-existing conditions.
"All Republicans support people with pre-existing conditions, and if they don't, they will after I speak to them," he tweeted Oct. 18. "I am in total support."
GOP efforts to repeal the Affordable Care Act would have hurt people with pre-existing conditions. And the White House — along with GOP attorneys general from across the country — is backing a Texas lawsuit that would eliminate the ACA mandate that protects people with pre-existing conditions.
Politifact called Trump's claim a "pants on fire" lie, the worst rating one can get from the fact-checking organization.
Daniel Dale, a reporter from the Toronto Star who has been tracking Trump's lies throughout his presidency, wrote in an article on Monday that Trump "has rarely before deployed so many complete fabrications about so many important subjects at the same time."
And the rest...
Khashoggi coverup: After days of deference toward Saudi Arabian Crown Prince Mohammed bin Salman, Trump has now changed his tune and said the murder of Saudi dissident and Washington Post journalist Jamal Khashoggi was "one of the worst cover-ups in the history of cover-ups."
Trump Putin Round 2: Trump is set to meet with Russian President Vladimir Putin in Paris on Nov. 11, national security adviser John Bolton announced on Tuesday.
Beware the early vote numbers: Early voting has begun in a number of states across the country. But take the numbers with a grain of salt. I explain why here.