Hype Daily: Cardi B dropped a new single and more entertainment news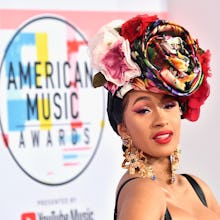 Good morning readers! Congratulations to the one person in South Carolina who won the $1.5 billion Mega Millions jackpot on Tuesday night. And to the rest of you, happy Wednesday. Let's get into the day's entertainment news.
Cardi B dropped her new song, "Money," on Tuesday
Rapper Cardi B surprised everyone by releasing her new single, "Money" on Tuesday. It's her first new single since her debut album Invasion of Privacy came out in April, Pitchfork reported on Tuesday. And Cardi B, as we all know, has been in the news a lot since April — she revealed her marriage to rapper Offset, had a baby and feuded with Nicki Minaj. Listen to her new song here.
Jill Soloway spoke about their identity and the past and future of Transparent in a new interview
In a new interview with GQ, Transparent creator Jill Soloway spoke about their nonbinary identity, the future of their show and what it was like to have a #MeToo moment so close to home. Soloway also spoke about the original decision to cast Jeffrey Tambor as a trans woman. Even before the harassment allegations against Tambor the casting decision drew criticism.
"I think I had to grow," Soloway said. "I think it's evidenced in the fact that I cast Jeffrey that I didn't even really understand. Because the show was called Transparent, it was going to be about having a trans parent. So the kids have been centered throughout. It's about the whole family's experience, so I'm not positive that... I think it grew at the rate it was supposed to. Maura's story got better and better as we brought trans women into the writers' room, and at the same time, you know, the original sin of having a man play the role of Maura became more and more problematic."
Tracy Chapman is suing Nicki Minaj
Singer-songwriter Tracy Chapman is suing rapper Nicki Minaj, aka Onika Maraj, for copyright infringement after Minaj used a sample from Chapman's song, "Baby Can I Hold You," without her permission, Rolling Stone reported on Tuesday. Apparently, Minaj tweeted at Chapman over the summer (the tweets have since been deleted) asking Chapman to respond and saying she hadn't realized that her song "Sorry" sampled from Chapman's work.
Well, according to the complaint, Chapman says her team "repeatedly denied Maraj's after-the-fact requests to use the composition." And then Minaj went ahead and debuted the song "Sorry" anyway. Let's hope Minaj has a fast car, because Tracy Chapman is coming for her!
Rosie O'Donnell is engaged
Comedian, actor and activist Rosie O'Donnell is engaged, she revealed to People on Monday. Her fiancee is 33-year-old Army veteran Elizabeth Rooney. O'Donnell told the outlet the two have been dating long distance.
"She lives in Boston now and I live here in New York," O'Donnell said. "It's been a long-distance thing. It's been great." She also said the wedding date will be "a long time in the future," so don't get too excited just yet.
Put this on your radar: The World Series is happening
Yup, that's right, the World Series is happening right now. It's basically the prom of baseball. In case you haven't been following, the two teams going head to head are the Boston Red Sox and the Los Angeles Dodgers, and, because I am a Boston native, I am obligated through blood contract to root for the Red Sox.
Luckily for me, the Sox won the first game of the series at Fenway Park last night, 8-4. Go Nomar!
This has been Hype Daily, Mic's morning entertainment roundup. It's everything you need to catch up on in the entertainment world and what to look forward to today. Want to receive this as a daily email in your inbox? Subscribe here.