Suspected IEDs sent to Clinton, Obama, CNN headquarters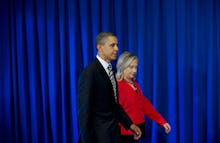 A pair of apparent improvised explosive devices addressed to former President Barack Obama and former Democratic presidential nominee Hillary Clinton were intercepted by the Secret Service on Wednesday.
One IED was addressed to Clinton and sent to her Chappaqua, New York, home, according to the Secret Service. The other was addressed to Obama's Washington, D.C., office.
Another suspicious package was sent to the Time Warner Center in New York City, forcing CNN headquarters to evacuate as the network reported on the attempted attacks. The Associated Press reported that the bomb intercepted at CNN is a suspected pipe bomb, and was addressed to former CIA Director John Brennan, whom Trump has sparred with and whose security clearance Trump revoked. Brennan is an NBC News contributor.
New York Police Department Commissioner James O'Neill said in a press conference Wednesday afternoon that the explosive device sent to CNN appeared to be live and that the package also included an envelope containing white powder.
The area has been swept and no additional threats have been found, O'Neill said.
New York Mayor Bill de Blasio said in the same press conference that the attack was an act of terror intended to "intimidate the free press."
A suspicious package has also been found at the Florida office of Democratic Rep. Debbie Wasserman Schultz, the former chair of the Democratic National Committee. It's not clear whether an explosive device was found in the package, a local Florida television station reported. The office has been evacuated as a precaution, CNN reported.
The former DNC chair's office was reportedly the return address on at least some of the suspicious packages.
Later Wednesday, it was also reported that a suspicious package was sent to former Attorney General Eric Holder, but the address was incorrect. Holder served in the Obama administration.
New York Gov. Andrew Cuomo said in a press conference Wednesday afternoon that a suspicious package had also been addressed to his Manhattan office.
CNN has also reported that the Capitol Hill Police bomb squad has responded to reports of a suspicious package at a Congressional mail screening facility in Maryland. According to ABC News, the package was addressed to Rep. Maxine Waters (D-Calif.), whom President Donald Trump has repeatedly attacked in speeches and on Twitter.
It had earlier been reported that an additional suspected explosive device had been sent to the White House, but the Secret Service later said no IED had been intercepted en route to the White House.
The two packages were "immediately identified during routine mail serving procedures," the Secret Service said in a statement Wednesday, and neither Clinton nor Obama received the packages with the explosive devices.
The Secret Service has launched an investigation.
News of the apparent IEDs came just a day after a bomb was found at the home of liberal philanthropist George Soros.
Soros has long been a rhetorical punching bag of the right, and President Donald Trump had claimed recently that Soros had paid protesters to demonstrate against the confirmation of his Supreme Court nominee, Brett Kavanaugh.
Trump has frequently attacked Hillary Clinton, his opponent in the 2016 election. He regularly calls on his Department of Justice to prosecute her and other Democrats, and at his rallies supporters frequently chant "lock her up" in reference to Clinton.
Trump made his name in politics by spreading the false, racist conspiracy theory that Obama was not born in the United States, and has called him a "bad (or sick) guy" as part of a false accusation that the former president wiretapped his phones at Trump Tower during the 2016 campaign.
Trump has been briefed on the matter, according to NBC News, and the White House condemned the "despicable" attempted attacks.
"We condemn the attempted violent attacks recently made against President Obama, President Clinton, Secretary Clinton, and other public figures," White House press secretary Sarah Sanders said in a statement Wednesday. "These terrorizing acts are despicable, and anyone responsible will be held accountable to the fullest extent of the law. The United States Secret Service and other law enforcement agencies are investigating and will take all appropriate actions to protect anyone threatened by these cowards."
Trump has not personally released a statement on the matter, but tweeted Wednesday afternoon that he agreed "wholeheartedly" with a statement by Vice President Mike Pence condemning the attempted attacks.
But CNN Worldwide president Jeff Zucker said the statements from Trump and the White House didn't go far enough. In a statement Wednesday afternoon, Zucker said that the administration has a "total and complete lack of understanding ... about the seriousness of their continued attacks on the media."
"The president, and especially the White House press secretary, should understand their words matter," Zucker said. "Thus far, they have shown no comprehension of that."
Clinton acknowledged the attempted attack during an address in Florida on Wednesday afternoon, thanking the Secret Service and calling for the nation to heal its "deep divisions."
"We are fine thanks to the men and women of the Secret Service," Clinton said while speaking in Miami. "Every day we are grateful for their service and commitment, and obviously never more than today."
"It is a troubling time, isn't it?" Clinton continued. "It's a time of deep divisions, and we have to do everything we can to bring our country together. We also have to elect candidates who will try to do the same."
Oct. 24, 2018, 4:08 p.m. Eastern: This story has been updated.