Outdoor enthusiasts file climate change lawsuit against Trump administration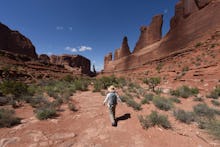 The Animal Legal Defense Fund has led a group of nature enthusiasts, scientists and wildlife advocates in filing a lawsuit against the Trump administration against their lack of action against climate change.
The lawsuit alleges that climate change's damage to natural public lands, which results in higher instances of natural disasters like wildfires, ice melts and flash flooding, infringes on the plaintiffs' constitutional right to privacy, which has been interpreted as the right to be "let alone."
The ALDF claims that these natural environments are now the only place where the plaintiffs can exercise this right, given the increasingly urban and digitally connected nature of current society. Natural disasters have shortened the windows for visiting these sites, the lawsuit noted, which results in these natural areas becoming more crowded when they're accessible, making it harder to find solitude and speeding up the degradation of the natural environments.
The government bears responsibility for these increased natural disasters through its inaction in reducing greenhouse gas emissions and support for industries that produce pollutants, the lawsuit claims. The legal challenge was filed against the U.S. Departments of Agriculture, Defense and the Interior, along with the Environmental Protection Agency and other federal agencies and Trump administration officials.
"The right to be let alone has been protected in the context of things like freedom from state surveillance and the government's intrusion into our bodily autonomy," ALDF senior policy adviser Carter Dillard told the Oregonian.
"The Constitution certainly has to account for threats to national wellbeing and continuity, like climate change, and we think the jurisprudence on privacy and liberty is one place where it accounts for that threat," Dillard said. "How could the government shirk its most basic responsibility and argue otherwise?"
Among the plaintiffs in the lawsuit are scientists whose research has been hampered by these natural disasters and outdoor enthusiasts who now fear for their safety in their interactions with nature. Plaintiff Michael Goetz recounted an instance of waking up on a backpacking trip to smoke so intense he could not see his hand in front of his face, and wilderness guide Cody Shotola-Schiewe pointed to an increased risk of rock fall and avalanche dangers.
Another plaintiff, outdoor adventure athlete Will Gadd, "has witnessed ice and glacier melt while climbing in conditions that are much more dangerous today than they were years ago when he first began climbing," the lawsuit noted.
"Will is harmed by the government's actions and inactions to stem the severity of climate change because he is prevented from reasonably and safely exercising his right to wilderness on which he relies for his physical and mental wellbeing as well as his global status as an outdoor adventurer and educator," the lawsuit added.
The lawsuit, which was filed Oct. 19, came as the U.S. Supreme Court temporarily halted another major climate suit by young Americans to hold the federal government responsible for their inaction on climate change. Chief Justice John Roberts granted the Trump administration's request for a stay in the case on Friday, and plaintiffs have since filed a request asking for the case to move forward. The trial was initially scheduled to begin Oct. 29.