Snapchat's register to vote feature resulted in 400,000 new voter sign-ups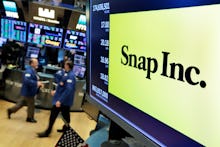 For National Voter Registration Day, Snapchat added a feature that let users quickly register to vote via TurboVote. Now the company has revealed numbers from its voter registration drive: over 400,000 people signed up to vote in a two-week period , the New York Times reported.
Many of the new voter signups have been been in states expected to exhibit close races such as Georgia (22,649 new voters), Florida (29,044) and Texas (79,148).
Snapchat users skew young, and most of the app's users are people age 18-24. Historically, young people don't always show up to the polls on Election Day. A recent poll by the Public Religion Research Institute and the Atlantic showed only 28% of people ages 18 to 29 definitely plan on voting in the 2018 midterms. In contrast, 74% of seniors said the same.
Other tech companies have used their platform to encourage voting in the upcoming midterms as well. Facebook and Twitter have used their sites to encourage voter registration with hashtags and links to the TurboVote site. Companies like Lyft and Uber will offer discounted and free rides to polling places.