Time Warner building in New York evacuated after "suspicious package" sent to CNN offices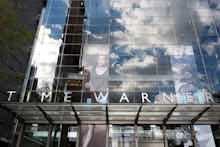 The Time Warner Center in Manhattan was evacuated Wednesday after a suspicious package was discovered sent to CNN headquarters.
The package, which also contained an envelope with white powder, was addressed to former CIA director John Brennan — a critic of President Donald Trump and a commentator for NBC News and MSNBC.
The evacuation came after the Secret Service intercepted suspected improvised explosive devices sent to former President Barack Obama and former Democratic presidential nominee Hillary Clinton overnight.
The network was reporting on the alleged attempted attack on Obama and Clinton when CNN newsroom anchors Poppy Harlow and Jim Sciutto cut to commercial and apparently evacuated the building.
Sciutto tweeted a picture from outside CNN headquarters in New York after it was evacuated Wednesday morning. It showed a police presence outside the building, including members of the bomb squad.
A day earlier a bomb was found at the home of liberal philanthropist George Soros — a frequent target of right-wing conspiracy theorists.
The White House condemned the actions as "despicable."
"We condemn the attempted violent attacks recently made against President Obama, President Clinton, Secretary Clinton, and other public figures," White House press secretary Sarah Sanders said in a statement Wednesday. "These terrorizing acts are despicable, and anyone responsible will be held accountable to the fullest extent of the law. The United States Secret Service and other law enforcement agencies are investigating and will take all appropriate actions to protect anyone threatened by these cowards."
Trump regularly attacks Obama and Clinton and frequently characterizes CNN as "fake news."
In a press conference Wednesday afternoon, New York Mayor Bill de Blasio described the attempted attack as an act of terror intended to "intimidate the free press."
"The people of New York city will not be intimidated," de Blasio said.
By Wednesday afternoon, the Time Warner Center had been reopened.
CNN Worldwide President Jeff Zucker slammed Trump, who called the attempted attacks "abhorrent" Wednesday afternoon, in a statement.
"There is a total and complete lack of understanding at the White House about the seriousness of their continued attacks on the media," Zucker said. "The President, and especially the White House Press Secretary, should understand their words matter."
"Thus far, they have shown no comprehension of that," Zucker added.
Oct. 24, 2018, 4:01 p.m. Eastern: This story has been updated.