Brian Kemp calls allegations of voter suppression "a farce" during Georgia gubernatorial debate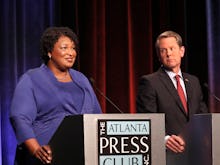 Georgia's Republican gubernatorial candidate Brian Kemp defended himself against allegations of carrying out a concerted effort to suppress votes in the state during a debate with Democratic rival Stacey Abrams on Tuesday night.
"No one is being denied the right to vote," Kemp said, despite recent reports that 1.4 million people have been purged from the Georgia voter rolls since 2012, all during his tenure as Secretary of State. "It's never been easier to register to vote."
With 13 days to go until the November 2018 midterm elections, and polls showing that Kemp and Abrams are locked in a statistical dead heat, voter disenfranchisement has become a major issue in Georgia's increasingly polarized gubernatorial campaign.
Abrams, a longtime voting rights advocate who founded the New Georgia Project, an organization aimed at registering young and minority voters, has in the past called Kemp a "remarkable architect of voter suppression" in the state. But it was Abrams, Kemp argued on Tuesday, who had betrayed the values of Georgians by taking part in a staged burning of an old version of the state flag that bore a confederate insignia in 1992.
The flag-burning protest was first reported on by the New York Times on Monday, after an old report of the incident was resurfaced from the archives of the Atlanta Journal-Constitution.
"Twenty-six years ago, as a college freshman, I, along with many other Georgians, including the governor of Georgia, were deeply disturbed by the racial divisiveness that was embedded in the state flag with that Confederate symbol," Abrams said of the protest, which she took part in as a freshman at Spelman College in Atlanta. "I took an action of peaceful protest, I said that that was wrong, and 10 years later, my opponent Brian Kemp actually voted to remove that symbol," she said.
The incident was just one of a wide variety of issues that Kemp hit Abrams with over the course of Tuesday night's debate, during which he attempted to characterize her as having an "extreme agenda."
"She wants higher taxes. Bigger government. A single-payer radical government takeover of health care," Kemp said. "And those are her moderate positions."
Abrams countered that while she appreciates the idea of single-payer health care in theory, she supports plans to expand Medicaid under the Affordable Care Act in Georgia in the short term.
"Unfortunately my opponent, Mr. Kemp, does not have a plan for health care, other than saying trust your insurance companies," she said.