Trump administration gives states power to weaken Affordable Care Act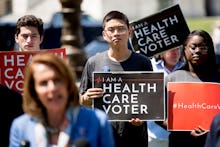 The Trump administration took its latest step to weaken the Affordable Care Act on Monday, as the Centers for Medicaid and Medicare and the U.S. Treasury department issued new guidance for state waivers on the ACA.
The new guidance expands section 1332 waivers under the policy, which allow states to waive certain ACA provisions to reconfigure their own insurance markets. While the waivers were previously more limited and primarily used for reinsurance programs, which allow insurance companies to be reimbursed for high insurance claims, the Trump administration's new guidance gives states greater flexibility in how they design their insurance markets.
Most controversially, the new guidance will pave the way for states to offer short-term or association plans, which provide cheaper coverage but are not required to cover those with pre-existing conditions or to provide essential health benefits like maternity care, prescription drugs or preventative care. While the Trump administration previously expanded these plans in August, the new guidance allows these plans to be offered through ACA marketplaces and covered under the ACA's federal subsidies.
States will still be required to have plans providing comprehensive coverage under the new guidelines, but will now be able to offer the more limited plans alongside these comprehensive plans.
The move could benefit conservative states whose governments oppose the ACA. Over a dozen state governors and attorneys general are currently suing the federal government over the ACA, arguing that the health care law should be declared unconstitutional, and the Wall Street Journal noted that Idaho and Oklahoma have already previously requested to make changes that would erase key ACA provisions.
Democratic-led states seeking to break from the ACA by implementing single-payer health care systems or other plans involving government subsidies, however, could still be prevented from doing so under the new guidelines. Though the changes are designed to give states more "flexibility," the guidelines specify plans "should foster health coverage through competitive private coverage ... over public programs."
"It's hard to overstate how much flexibility states will have under the Trump administration's new guidance for ACA waivers," Kaiser Family Foundation senior vice president Larry Levitt wrote on Twitter. "This will likely widen the gap between red states and blue states for access, affordability, regulation and protections for pre-existing conditions."
While the new guidelines could encourage currently uninsured Americans who are deterred by the cost to buy health insurance, health care advocates cited by Kaiser Health News and CNN noted that the new policy could increase costs for those with pre-existing conditions or who need comprehensive coverage. The short-term plans could draw healthier Americans away from the traditional ACA plans, thus driving up premiums for those who remain on the ACA plans.
Former CMS acting administrator Andy Slavitt also projected the new guidelines could decrease federal subsidies to those with ACA plans, telling the Washington Post the guidelines could make it more difficult for people to find affordable comprehensive coverage.
Health care in the November midterms
The new guidelines come as health care has emerged as a major issue in the November midterm elections. A Kaiser Family Foundation poll released Oct. 18 found 71% of respondents considered health care to be "very important" in making their voting decision for Congress, and the Wesleyan Media Project reported the same day that nearly half of federal campaign ads and 30% of gubernatorial campaign ads mentioned health care In the period between September 18 and October 15.
"Election Day is the biggest referendum on the ACA," Slavitt told CNBC. "These votes will also be a referendum on Trump policies, which have done everything they can to limit Medicaid and access to care."
Republicans have led the crusade against the ACA, and by extension its protections against those with pre-existing conditions. Republican Congressional lawmakers largely voted in favor of repealing the ACA, including its protections for pre-existing conditions. The Trump administration has also joined the state-led lawsuit against the ACA, arguing in a brief that even if the law isn't invalidated entirely, the court should repeal the pre-existing condition protections specifically as being unconstitutional.
In the face of widespread support for pre-existing condition protections, however, Republicans have switched their rhetoric ahead of the election. Many Republican candidates, including those backing the ACA lawsuit and who voted against the ACA in Congress, have run advertisements claiming to support the protections, and President Donald Trump falsely claimed on Twitter that "Republicans will totally protect people with Pre-Existing Conditions, Democrats will not!"
Those claims to protect pre-existing conditions are so far not backed up by Republican policy. The state ACA lawsuit would repeal the pre-existing condition protections if it succeeds, and current proposals to protect pre-existing condition protections in Congress have loopholes that do not protect health care consumers as strongly as the ACA. Senate Majority Leader Mitch McConnell also said in recent interviews that the Senate will again try to repeal the ACA and cut benefit programs including Medicare and Medicaid if it holds its Senate majority.
Wisconsin Gov. Scott Walker, who has backed the ACA lawsuit but also claims to support protections for pre-existing conditions, has pointed to a proposed bill that would prohibit insurance providers from denying coverage to those with pre-existing conditions. Experts cited by Wisconsin Public Radio, however, believe the legislation would not be effective without the other safeguards the ACA provides.
Democrats, on the other hand, have been touting their support for the ACA and criticizing Republican opponents for their attacks on health care. Sen. Joe Manchin (D-W.Va.) has made pre-existing condition coverage the central part of his campaign, even filming a television advertisement of the Senator shooting the ACA lawsuit with a firearm.
"Josh Hawley had a decision to make about six months ago, eight months ago, and he had to decide, 'Do I use my job and taxpayer money to file a lawsuit to wipe out every protection in the ACA?'" incumbent Missouri Sen. Claire McCaskill said about opponent Josh Hawley during an appearance at the University of Missouri-Kansas City. Hawley currently serves as the state's attorney general and is backing the state ACA lawsuit.
"He could be arguing that pre-existing conditions can stand on its own because he's saying he supports it," McCaskill continued. "But oh no, you know what he argued in the case? That none of it is severable, that it all has to go."
Those attacks have been reignited by the Trump administration's new guidance, which Senate Minority Leader Chuck Schumer described in a tweet as the administration declaring its intention "to use taxpayer dollars to fund junk insurance plans that don't cover pre-existing conditions, which could lead to medical bankruptcy for many American families in order to pad the pockets of health insurance executives."
"Republican candidates across the country have been lying about their records and policies to claim they support coverage of pre-existing conditions for months," Democratic Senatorial Campaign Committee communications director Lauren Passalacqua said in a statement.
"A week after Mitch McConnell blew their cover, now the White House puts them on the spot by announcing that they would allow states to sell plans without coverage for pre-existing conditions. Every Republican Senate candidate who is lying about the consequences of their support for the AHCA, Graham-Cassidy or Texas v. United States should be forced to answer for this, but make no mistake — they'll just lie about this, too."