Saudi crown prince calls Khashoggi killing "heinous" as outrage grows over disappearance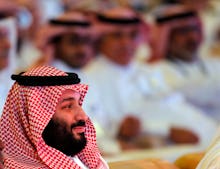 Saudi Crown Prince Mohammed bin Salman on Wednesday said in his first public comments on the killing of Jamal Khashoggi that the dissident journalist's death was "painful" and claimed that he'll bring "justice" to those responsible.
The remarks came at the Future Investment Initiative summit in Riyadh, Saudi Arabia, and as international observers call for the crown prince to be held accountable for the killing.
"Saudi Arabia will go and implement all necessary rules and investigate deeply in order to achieve results," the crown prince said, according to CNN. "And to bring to justice those who were responsible for this heinous crime and they will be put before the courts. There's no doubt."
Khashoggi, a contributing columnist for the Washington Post who had been critical of the kingdom, disappeared Oct. 2 after entering the Saudi consulate in Istanbul.
Turkey has said the journalist was killed and dismembered at the direction of the crown prince and the Saudi regime — an assessment supported by United States intelligence.
But top Saudi leadership has denied wrongdoing, claiming that Khashoggi died in a fistfight at the consulate.
President Donald Trump, who has defended the regime amid the growing global furor, initially told reporters that he found the Saudi explanation "credible."
But Trump changed course Tuesday afternoon, telling reporters in the Oval Office that the kingdom had conducted "one of the worst cover-ups in the history of cover-ups."
"Somebody really messed up," he said.
The grisly death of Khashoggi, a strong critic of the Crown Prince Mohammed, has led to mounting pressure on the crown prince, who has portrayed himself as a reformer seeking to bring moderation to the kingdom. A number of American politicians, including Sen. Lindsey Graham (R-S.C.), have said the crown prince "has got to go" in the wake of the killing.
The crown prince's Wednesday comments on Khashoggi's "heinous" death came at the so-called "Davos in the Desert" summit.
Several international business leaders, along with Treasury Secretary Steve Mnuchin, pulled out of the global investment summit over the journalist's death.