'The Marvelous Mrs. Maisel' just revealed its season 2 premiere date and a brand new trailer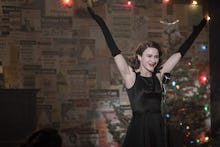 Amazon's award-winning period comedy The Marvelous Mrs. Maisel just announced the premiere date for its second season: Dec. 5, just in time for Hanukkah. Amazon made the announcement on the show's official Twitter account on Wednesday, and revealed a brand new trailer for the upcoming season.
The new trailer hints at some of the challenges Midge Maisel, played by Rachel Brosnahan, will face trying to actually make it as a woman comic in the 1950s — sexism within the industry, pressure from her family and New York City traffic.
The first season saw Midge, newly single after her husband left her, accidentally discovering her talent as a standup comedian. She teamed up with Susie Myerson, played by Alex Borstein, and actually began to make a little headway in the New York comedy scene before inadvertently making an enemy of a powerful comedy agent. The season ended with Midge facing an even steeper uphill battle to succeed in the industry.
The first season of The Marvelous Mrs. Maisel won big at the 70th Annual Emmy Awards in September, earning a total of five awards, including the prize for outstanding comedy series. Show creator Amy Sherman-Palladino won the awards for outstanding writing for a comedy series and outstanding comedy directing, Brosnahan won for outstanding lead actress in a comedy series and Borstein won for outstanding supporting actress in a comedy series.
Speaking about the upcoming second season in an interview with Variety back in June, Brosnahan said she was excited to spend more time digging into Midge's different identities. Read her comments below:
Something I'm looking forward to exploring more in the second season is the tension between Midge's three very distinct and different worlds. She's a mother and a daughter and a, possibly, wife/ex-wife, as it left off in the first season. She's a working woman now. She has a job that she loves and she's also a budding stand-up and none of those worlds really gel together. Though I'm looking forward to watching her try to balance and I think that the more invested she becomes in each of the three, particularly the work and the stand-up, the harder that juggling will become.