Trump on bombing attempts: "This egregious conduct is abhorrent"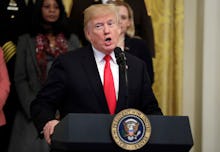 President Donald Trump on Wednesday condemned the attempted bombings perpetrated against some of his prominent political opponents, including former Democratic presidential nominee Hillary Clinton and former President Barack Obama, and called on Americans to "unify."
"In these times, we have to unify," Trump said in brief remarks prior to a White House event addressing the opioid crisis. "We have to come together. This egregious conduct is abhorrent to everything we hold dear and sacred as Americans."
The remarks came after improvised explosive devices were delivered to Obama, Clinton and CNN. The bomb sent to CNN was addressed to former CIA director John Brennan, an NBC News contributor.
Other bombs were found addressed to former Attorney General Eric Holder and Rep. Maxine Waters (D-Calif.), but were not delivered. The one intended for Holder was incorrectly addressed and sent to the office of former Democratic National Committee chair Debbie Wasserman Schultz, whose office was listed as the return address on the packages.
All the intended recipients are critics of Trump and have been the subject of high-profile attacks by the president.
The White House was quick to condemn the attempted attacks, but the president himself had been largely quiet on the matter. Until his remarks at the White House on Wednesday afternoon, he had only retweeted Vice President Mike Pence's tweet slamming the "cowardly actions" as "despicable."
"I agree wholeheartedly!" Trump tweeted early Wednesday.
Later in the day, he called the attempted attacks "despicable" and said a federal investigation is underway.
"Acts or threats of political violence of any kind have no place in the United States of America," Trump said.
But Trump himself has repeatedly engaged in dangerous rhetoric aimed at his political opponents, with Obama, Clinton, Waters and Soros among his most frequent targets. He also routinely lashes out against the media, most recently praising Rep. Greg Gianforte (R-Mt.) for physically assaulting a reporter in 2017.
Trump's brief comments came after first lady Melania Trump introduced him prior to a speech on his administration's response to the opioid crisis. She also briefly addressed the attempted bombings, saying the U.S. "cannot tolerate these cowardly attacks."