Trump backers claim without evidence that bombs sent to Democrats, CNN are a "false flag" operation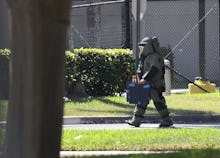 Right-wing agitators who back President Donald Trump are claiming — without evidence — that bombs sent Wednesday to at least five Democratic figures and CNN's New York headquarters were part of a "false flag" operation meant to hurt Republicans ahead of the midterm elections.
Federal investigators are looking into who sent the improvised explosive devices to former President Barack Obama, former President Bill Clinton and former Secretary of State Hillary Clinton, former Democratic National Committee chairwoman and current Rep. Debbie Wasserman Schultz (D-Fla.), Rep. Maxine Waters (D-Calif.) and Democratic megadonor George Soros.
A suspicious package addressed to former CIA Director James Brennan was also delivered to CNN's headquarters in New York.
All of the intended recipients have either feuded with Trump or are favorite targets of the president's ire. Yet federal investigators have not said who is behind the attacks or what their motivations might be.
That hasn't stopped Trump cheerleaders from speculating the IEDs were an effort to divert attention away from a migrant caravan headed toward the U.S. — which Trump is using to try to scare Republicans to the polls for the midterms.
Candace Owens, communications director for the conservative group Turning Points USA — who has made a name for herself as a black Trump supporter — tweeted the theory Wednesday afternoon.
"I'm going to go ahead and state that there is a 0% chance that these 'suspicious packages' were sent out by conservatives," Owens tweeted. "The only thing 'suspicious' about these packages is their timing. Caravans, fake bomb threats — these leftists are going ALL OUT for midterms."
Meanwhile, prominent conservative radio host Rush Limbaugh speculated who might be behind the bombs.
"Republicans just don't do this kind of thing," Limbaugh said Wednesday on his show, according to Media Matters. "Even though every event, like mass shootings — remember, every mass shooting there is, the Democrats in the media try to make everybody think right off the bat that some tea partier did it, or some talk radio fan did it or some Fox News viewer did it. Turns out, it's never, ever the case."
"Not one of these bombs went off," Limbaugh continued. "And if a Democrat operative's purpose here is to make it look like, hey, you know, there are mobs everywhere, the mobs are not just Democrat mobs. I mean, look at this, you've got people here trying to harm CNN and Obama and Hillary and Bill Clinton and Debbie blabbermouth Schultz. It just — it might serve a purpose here."
Frank Gaffney Jr., an Islamophobe who founded the Center for Security Policy — which the Southern Poverty Law Center describes as an anti-Muslim extremist group — also raised suspicion about the bombs.
"None of the leftists ostensibly targeted for pipe bombs were actually at serious risk, since security details would be screening their mail," Gaffney tweeted. "So let's determine not only who is responsible for these bombs, but whether they were trying to deflect attention from the left's mobs."
Trump, for his part, denounced the attempted attacks and called for Americans to come together.
"In these times, we have to unify," Trump said in a speech Wednesday afternoon. "We have to come together and send one very clear, strong, unmistakable message that acts or threats of political violence of any kind have no place in the United States of America."