Judge rules Georgia election officials can't toss absentee ballots over mismatched signatures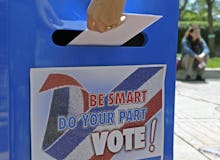 A judge ruled Wednesday that Georgia election officials must stop rejecting absentee ballots and voter registration applications over mismatched signatures and start giving voters a chance to fix the issues — a victory for voting rights advocates who sued the state over the practice.
The ruling came in response to a lawsuit brought by the American Civil Liberties Union of Georgia against current Secretary of State and Republican gubernatorial candidate Brian Kemp and county registrars. The suit specifically objected to a state law that permits election officials to reject absentee ballots if they perceive a discrepancy between a voter's signature on the ballot and their signature on file — with no time limit for informing voters their ballot was rejected, and despite having no formal training in handwriting analysis.
State officials had countered that because the Constitution does not explicitly guarantee the right to vote via absentee ballot, the process is not protected by the same protocols that pertain to voting by any other means.
In an emailed statement, ACLU Voting Rights Project staff attorney Sophia Lakin said the ruling "protects the people of Georgia from those who seek to undermine their right to vote. It's a huge victory, especially with the midterms just days away."
The ACLU victory comes as Kemp's record of voter suppression becomes a major focal point in his contentious campaign for Georgia governor against Democratic contender Stacey Abrams.
While Kemp has alleged the New Georgia Project — the organization aimed at increasing voter turnout that Abrams helped to found — has submitted shoddy paperwork while attempting to enroll new voters in Georgia, Abrams has called Kemp an "architect of voter suppression" in the state.
Indeed, a recent report by the Associated Press found some 53,000 voter registrations were on hold with Kemp's office over the "exact match" rule he helped enact, which stipulates that voting registration applications can be flagged over minor paperwork discrepancies like misplaced hyphens or misspellings.