Jamie Lee Curtis reveals her past opioid addiction: "No one knew. No one."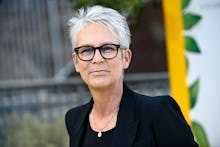 Jamie Lee Curtis, who stars in the successful new horror reboot Halloween, spoke to People magazine for an interview published Wednesday, in which the 59-year-old actor revealed she once privately struggled with an opioid addiction and has now been sober for almost 20 years.
"I was ahead of the curve of the opiate epidemic," Curtis told People. "I had a 10-year run, stealing, conniving. No one knew. No one."
Curtis described an opioid addiction that began after she was first prescribed opiates in 1989, following some minor plastic surgery. For the next 10 years, Curtis said, she was secretly addicted, stealing pills from friends and family. It wasn't until 1999 that she went to her first recovery meeting — the same day she told husband Christopher Guest about her addiction.
"I'm breaking the cycle that has basically destroyed the lives of generations in my family," Curtis told the People. "Getting sober remains my single greatest accomplishment… bigger than my husband, bigger than both of my children and bigger than any work, success, failure. Anything."
Curtis' father, actor Tony Curtis, struggled with addiction to drugs and alcohol, and her half-brother, Nicholas Curtis, died of a heroin overdose in 1994 when he was 23. Curtis, who has now been in recovery for almost two decades, says she hopes to help other people who've struggled with opioid addiction — something that's now considered a national public health emergency.
"In recovery meetings, anyone who brings up opiates, the entire room will turn and look at me," Curtis told People. "Because I'll be like, 'Oh here, talk to me. I'm the opiate girl.'"