Mic Daily: Trump and his backers respond to bombing attempts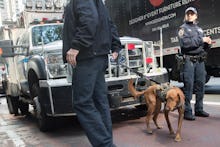 Good evening, folks. It's been quite a dramatic, tense day here in New York in light of the news that an as-of-yet unknown party mailed bombs to prominent politicians and to our industry colleagues over at CNN's New York City offices. Nevertheless, I'm here, as always, to guide you through the five best stories out of Mic today — including one about how Trump backers have responded to the aforementioned news.
In response to the attempted bombings at the offices and homes of a number of politicians — like Hillary Clinton, former President Barack Obama and California Rep. Maxine Waters — President Donald Trump called for unification.
"We have to come together," Trump said Wednesday at the White House. "This egregious conduct is abhorrent to everything we hold dear and sacred as Americans."
During a debate Tuesday night, Georgia's Republican gubernatorial candidate Brian Kemp responded to allegations of voter suppression. A reported 1.4 million people have been purged from the Georgia voter rolls since 2012, all during Kemp's tenure as secretary of state — which he claimed was untrue.
In the wake of the news that officials had intercepted explosive devices en route to politicians and CNN's New York City offices, a disappointing, yet unsurprising number of right-wing personalities claimed the attempted bombings were a "false flag" operation — meaning they were some kind of coordinated attempt from the left to make Republicans look bad ahead of the midterms.
During a keynote speech Wednesday at the International Conference of Data Protection and Privacy Commissioners in Brussels, Apple CEO Tim Cook took shots at his competitors in the tech world, like Google and Facebook, for the way they handle user data.
He didn't name them directly, of course, but said tech companies' nefarious habit of collecting user data was akin to "surveillance."
Recently, Snapchat ran an in-app campaign encouraging its mostly young (myself included, thank you very much) user base to register to vote via the service TurboVote ahead of the November midterms.
Apparently, it was quite a success.