Hype Daily: Megyn Kelly's morning show might be ending and more entertainment news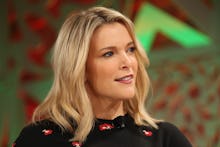 Good morning readers, so happy you're all joining me on this fine Thursday. Let's check out today's big entertainment news, shall we?
Megyn Kelly's show faces an uncertain future after her blackface comments
Former Fox News host Megyn Kelly, who now hosts the 9 a.m. hour of NBC's Today, is reportedly close to losing her Megyn Kelly Today show after her comments about blackface, CNN Business reported on Thursday. According to CNN Business, Kelly's exit "appears to be imminent" and "two people familiar with the matter ... said Kelly's show will be ending."
On Tuesday, Kelly said on air that she didn't see what was so wrong with white people dressing up in blackface, and added, "Back when I was a kid, that was OK as long as you were dressing up as a character." Her comments obviously sparked an instant backlash from everyone who actually understands what's so wrong with wearing blackface, and Kelly apologized to her colleagues in a memo and to her audience on Wednesday's show.
But that doesn't seem to be enough to put out the trash fire she herself started. On Wednesday, news broke that Kelly had split with her agent Matt DelPiano of Creative Artists Agency, who negotiated her massive contract at NBC. It's unclear what Kelly's future is at NBC, but according to CNN Business, "Kelly will not be hosting Thursday's program, and she is unlikely to return later."
Robert De Niro was also sent a suspicious package
Actor Robert De Niro was reportedly one of the additional targets of the rash of mailed explosives that made headlines on Wednesday, according to CNN. The package was addressed to De Niro and sent to the Tribeca building where his production company is based. CNN reported that the contents of the package appeared "similar" to the pipe bombs mailed to other public figures, including former President Barack Obama, former Secretary of State Hillary Clinton and Democratic donor George Soros.
Like many of Wednesday's victims, De Niro has been publicly critical of President Donald Trump. According to CNN, the package addressed to De Niro "had the same return address as the others: that of Democratic U.S. Rep. Debbie Wasserman Schultz of Florida." The suspicious package was reportedly discovered early Thursday morning and taken to an NYPD facility in the Bronx.
Laverne Cox campaigned in Boston
Actor and activist Laverne Cox was in Boston on Wednesday to encourage voters to vote yes on ballot question 3 in November, a measure to uphold Massachusetts' protections for transgender people, the Boston Globe reported on Wednesday. While there, Cox spoke about the recent news that the Trump administration plans to enact a policy that would restrict the federal definition of gender, essentially ignoring trans and non-binary Americans.
"Massachusetts has an opportunity to send a message to this administration, has an opportunity to send a message to the rest of the country that this is not who we are as Americans, that this is not who we are as human beings, that we respect the humanity of everyone," Cox told the crowd in Boston.
The trailer for the Weinstein documentary The Reckoning is here
A new trailer for the upcoming documentary The Reckoning: Hollywood's Worst Kept Secret dropped on Wednesday. The doc deals with Hollywood producer Harvey Weinstein, whose pattern of sexual harassment and abuse was reportedly an open secret in Hollywood for decades before a New York Times report shined a spotlight on his behavior.
According to Vulture, the doc raises the question of just how widespread knowledge of Weinstein's behavior was in the industry, and why no one did anything. Check out the powerful trailer here.
Put this on your radar: Bodyguard
The hit British show Bodyguard is now available to stream on Netflix, and if you like intense thrillers with lots of intrigue, this one is probably for you. The show, which follows a police specialist assigned to protect a possibly evil British politician, was a huge hit in the U.K., and the Hollywood Reporter review calls it "six-plus hours of pulse-pounding action and brain-bending twists." Sounds like a fun Saturday.
This has been Hype Daily, Mic's morning entertainment roundup. It's everything you need to catch up on in the entertainment world and what to look forward to today. Want to receive this as a daily email in your inbox? Subscribe here.