Two new mail bombs found, sent to former Vice President Joe Biden and Robert De Niro's restaurant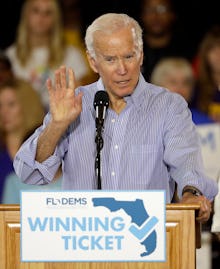 Two new mail bombs were discovered on Thursday with similar characteristics to the bombs discovered a day earlier, this time intended for former Vice President Joe Biden and actor Robert De Niro.
Both intended targets have feuded with President Donald Trump, fitting the theme of the other bombs found on Wednesday that were addressed to former President Barack Obama, former President Bill Clinton, former Secretary of State Hillary Clinton, former Attorney General Eric Holder, Democratic Reps. Maxine Waters and Debbie Wasserman Schultz and former CIA Director John Brennan.
Billionaire George Soros, a Democratic megadonor who has been the target of Republican conspiracy theories, and CNN — which Trump has attacked repeatedly — also received bombs.
The package address to De Niro was found at his Tribeca production company in New York City, according to the New York Times.
The package intended for Biden was discovered at a postal facility in facility in New Castle, Delaware — Delaware is Biden's home state — NBC News reported Thursday morning.
The FBI has yet to say whether there is a suspect or suspects in the attempted bombings.
So far, no one has been hurt. But Trump is facing criticism for his rhetoric against Democrats and the media over how his words could lead to violence against those he has attacked.
Trump tried to strike a bipartisan tone about the attempted attacks on Wednesday. But by Thursday morning, he was back to his old ways, launching verbal attacks on the media.
"A very big part of the Anger we see today in our society is caused by the purposely false and inaccurate reporting of the Mainstream Media that I refer to as Fake News," Trump Thursday morning. "It has gotten so bad and hateful that it is beyond description. Mainstream Media must clean up its act, FAST!"