Report: China, Russia listening in on Trump's calls to Fox News hosts and other outside confidantes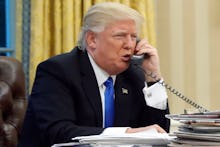 Chinese and Russian spies routinely listen in on President Donald Trump's private cell phone calls to friends and allies, according to the New York Times.
Citing unnamed American officials, the Times reported Wednesday that Trump continues to defy aides and use private iPhones to telephone friends and advisers outside his administration, including Fox News hosts and former casino tycoon Steve Wynn.
Chinese and Russian intelligence officials frequently eavesdrop on the calls, American officials told the Times, and have sought to use the information that they gather from the conversations to learn how to influence him. Chinese officials have also pushed some of Trump's frequent confidantes to persuade Trump to meet with Chinese President Xi Jinping "as often as possible."
The report underscores Trump's incautious handling of sensitive information — despite his repeated criticism of Hillary Clinton both during and after the 2016 campaign over her use of a private email server.
Trump has raised concerns before about his casual approach to classified information. In the opening days of his presidency, he and Japanese Prime Minister Shinzo Abe monitored a North Korean missile test from the dining room of the president's Mar-a-Lago golf club — in full view of club members, one of whom posed for a photo with an Army officer who reportedly carried the nuclear football. Also in 2017, Trump revealed "highly classified" information to Russian officials in the Oval Office.
While administration officials are concerned about the calls from his private cell phones, they told the Times that they have "confidence" that he isn't revealing important state secrets because he doesn't appear to have a sophisticated enough understanding of what those secrets are.
"Administration officials said Mr. Trump's longtime paranoia about surveillance ... gave them some comfort that he was not disclosing classified information on the calls," the Times reported. "They said they had further confidence he was not spilling secrets because he rarely digs into the details of the intelligence he is shown and is not well versed in the operational specifics of military or covert activities."
Trump appears to have been upset by the report, disputing the Times story in a pair of tweets Thursday morning.
Both appear to have been sent from an iPhone.
In one, he called the article "long and boring," and said that it was "soooo wrong." In another, he claimed he "rarely [uses] a cellphone" and that any usage is "authorized."
"I like Hard Lines," Trump tweeted.
The pair of tweets, in which he characterized the report as "Fake News," came as part of a broader Twitter tirade against the media Thursday morning — a day after an unknown person or persons sent an improvised explosive device to the New York headquarters of CNN, which Trump routinely attacks. He claimed that "purposely false" reporting by the "hateful" press has fueled "Anger" in American society.