Spies are reportedly tuning into Trump's calls — here's how to have more secure chats than POTUS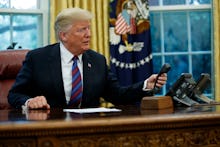 President Donald Trump insists on using his personal iPhones to make calls.
In a Wednesday report by the New York Times, the president of the United States has three iPhones: two altered by the NSA (one for apps and one for calls) and one personal device. While Trump gave up his relatively less secure Android upon becoming president, anonymous aides to the Trump administration noted the president chats most often on one of the three iPhones. According to the Times, this is much less secure than the government desk phones provided to him. Trump's staff has warned multiple times that spies from Russia and China regularly listen in. Despite this, the president reportedly won't give up the phones.
Thursday morning Trump denied the report on Twitter, saying he rarely uses a cell phone to make calls. "I like Hard Lines," the tweet read.
Regardless of your personal preference between cell phones and hard lines, you may prefer your conversations stay private, even if you aren't the subject of spying. Surveillance efforts that have targeted Black Lives Matter protesters, Muslim protesters, undocumented immigrants and more activists aside, even the more mundane is worth protecting.
"So much of our social, networked lives is contextual," Rebecca Ricks, Mozilla fellow and technologist, told Mic in a March interview. "There are conversations I have with my friends that I wouldn't want my family to see. There is information I give my bank that I wouldn't want a hacker to see."
Secure chats rely on end-to-end encryption, so that only the sender and recipient can read what's being sent. Luckily there are many free options.
Tactful texting
Numbers show that over 500 billion text messages are sent worldwide each month. You don't have to give up sending text-based messages to chat the encrypted way.
Options like Signal and WhatsApp allow only you and the person you're texting to see a message's contents. Signal has the benefit of being open source, meaning the company is transparent with the public about how the app is built, allowing developers to verify their claims of privacy. The two apps work on both iPhone and Android. Those on iPhone can rely on iMessage as an end-to-end encrypted option as well.
Encrypted emailing
You don't have to give up emailing if you want to speak privately. Options like ProtonMail allow users to send encrypted messages to other ProtonMail users. Unfortunately, the messages become unencrypted once they're sent to a service like Google's Gmail, ProtonMail CEO Andy Yen told Mic in a March.
If you insist on using a popular email service like Gmail (which isn't encrypted, meaning messages can be read by Google and the app-makers they give access), having two-factor authentication will make your account less susceptible to hacking. Of all the popular two-factor methods, receiving a temporary code via SMS is the least secure (because text messages are, yup, unencrypted). Receiving a code through an authenticator app is more secure, as are physical options like the Yubikey, which requires a specific USB drive to be inserted into the computer you're logging in with (think car keys for your email account).
ProtonMail also supports two-factor log in options.
Careful calling
Here's where you can really one-up Trump: Placing calls can be done privately for free as well. Apple's FaceTime video chat app supports audio only calls as well. Both sound-only and video calls made using Apple's protocol are encrypted on both ends. The aforementioned WhatsApp and Signal also support receiving and placing calls encrypted calls.