Justice Department argues businesses can legally discriminate against transgender employees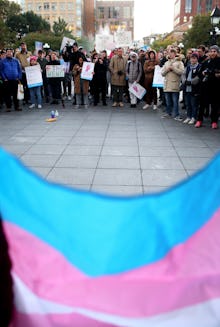 The Department of Justice on Wednesday told the Supreme Court that civil rights laws that ban discrimination on the basis of sex do not encompass anti-transgender bias. The argument, if the DOJ wins, would allow employers to legally discriminate against transgender employees, Bloomberg Law reported.
"The court of appeals misread the statute and this Court's decisions in concluding that Title VII encompasses discrimination on the basis of gender identity," Solicitor General Noel Francisco wrote in a brief regarding a case against a Michigan funeral home. The business is accused of violating federal employment laws when it fired transgender worker Aimee Stephens.
The Equal Employment Opportunity Commission, which enforces civil rights law in the workplace, successfully sued on Stephens' behalf in the Sixth Circuit Court of Appeals. But the Michigan funeral home has appealed the case to the Supreme Court, where the Justice Department would be forced to represent the government.
The Justice Department's argument that federal civil rights law does not apply to transgender workers comes after the New York Times published a report over the weekend that the Department of Health and Human Services wants to limit the definition of gender, saying that gender can only be defined by the genitals a person had at birth.
That move has sparked an outcry from transgender rights groups and transgender advocates.
The Trump administration has also tried to ban transgender individuals from serving in the military — a move that was blocked by multiple federal judges.