Who's Sorry This Week? Megyn Kelly, 'Vogue' and other public apologies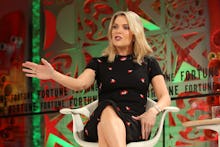 This week was a big one for apologies — we really hit the gold mine when it comes to high-profile mistakes.
In Who's Sorry This Week? Mic tracks down the most prominent mea culpas from celebrities, companies and other public entities trying to make amends for their various screw-ups.
So let's wade right into it, shall we?
Megyn Kelly is sorry she didn't know why blackface is bad
On Tuesday's episode of NBC's Megyn Kelly Today, former Fox News anchor — and now former Today host — Megyn Kelly told a panel she didn't understand what was so wrong with white people wearing blackface for Halloween.
"You do get in trouble if you're a white person who puts on blackface on Halloween or a black person who puts on white face for Halloween," she said. "Back when I was a kid, that was OK as long as you were dressing up as a character."
Her comments sparked an instant backlash, with many, many people helpfully pointing out that white people wearing blackface evokes a long tradition of racist minstrel shows that helped perpetuate and cement racist stereotypes.
Kelly apologized to her NBC News colleagues in a memo Tuesday afternoon.
"Today is one of those days where listening carefully to other points of view, including from friends and colleagues, is leading me to rethink my own views," Kelly wrote. "I've never been a 'PC' kind of person — but I understand that we do need to be more sensitive in this day and age. Particularly on race and ethnicity issues which, far from being healed, have been exacerbated in our politics over the past year. This is a time for more understanding, love, sensitivity and honor, and I want to be part of that. I look forward to continuing that discussion."
Kelly then delivered a public apology Wednesday, opening her show by saying, "I'm Megyn Kelly and I want to begin with two words: I'm sorry. You may have heard yesterday that we had a discussion here about political correctness and Halloween costumes. And that conversation turned to whether it is ever OK for a person of one race to dress up as another. ... I defended the idea, saying as long as it was respectful and part of the Halloween costume, it seemed OK. Well, I was wrong and I am sorry."
For some reason, Kelly's on-air apology earned Kelly a standing ovation from the audience. But it didn't smooth things over with her NBC bosses — reports circulated Thursday that Megyn Kelly Today was being canceled.
Vogue is sorry for its photo of Kendall Jenner styled with what looks like an afro
Speaking of inappropriate costumes, Vogue apologized Monday for a photo posted to the outlet's Instagram account Oct. 19 that showed model and celebrity Kendall Jenner — who is white — with her hair teased into what appeared to be an afro. The photo was taken by Mikael Jansson and styled by Tonne Goodman, both of whom are also white.
Commenters quickly pointed out the issue of giving a white woman what seemed to be a fake afro while models of color with natural hair actually exist. Vogue issued a statement to E! News on Monday apologizing for any offense.
"The image is meant to be an update of the romantic Edwardian/Gibson Girl hair which suits the period feel of the Brock Collection, and also the big hair of the '60s and the early '70s, that puffed-out, teased-out look of those eras," Vogue said. "We apologize if it came across differently than intended, and we certainly did not mean to offend anyone by it."
Hmm, no promises to do better next time?
Sarah Silverman is sorry for her comments about Louis CK
As Mic reported Tuesday, Sarah Silverman apologized this week for a story she told about comedian Louis C.K. in which she said he masturbated in front of her with her consent and seemed to defend his return to the stage after reports of sexual harassment.
"I've known Louis forever, I'm not making excuses for him, so please don't take this that way," Silverman told Howard Stern in an appearance on his Sirius XM radio show Monday. "We are peers. We are equals. When we were kids and he asked if he could masturbate in front of me, sometimes I'd go, 'Fuck yeah, I want to see that!' … It's not analogous to the other women that are talking about what he did to them. He could offer me nothing. We were only just friends. Sometimes, yeah, I wanted to see it, it was amazing. Sometimes I would say, 'Fucking no, gross,' and we got pizza."
Hours after that radio interview, comedian Rebecca Corry — one of five women who spoke to the New York Times in an article published in November about their experiences being sexually harassed by C.K. — responded on Twitter.
"To be real clear, C.K. had 'nothing to offer me' as I, too, was his equal on the set the day he decided to sexually harass me," Corry wrote. "He took away a day I worked years for and still has no remorse. He's a predator who victimized women for decades and lied about it."
Corry's response prompted a direct apology from Silverman.
"Rebecca I'm sorry," she wrote on Twitter. "Ugh this is why I don't like weighing in. I can't seem to do press 4 my show w/out being asked about it. But you're right — you were equals and he fucked with you and it's not OK. I'm sorry, friend. You are so talented and so kind."
Let this be a lesson to all of us that sometimes, it's just better not to say anything at all — especially on Howard Stern's show.
Red Sox player Brock Holt is sorry he doesn't want a free taco
In case you didn't know, the World Series is happening — the Boston Red Sox are up against the Los Angeles Dodgers — and during the series' first game Tuesday, Red Sox player Mookie Betts stole second base, giving everyone in America a free Doritos Locos Taco courtesy of Taco Bell's "steal a base, steal a taco" promotion.
But there's one person who definitely won't be cashing in on the offer — Red Sox player Brock Holt, who apologized Wednesday for not wanting to try Taco Bell.
"I don't think I'll be trying Taco Bell," Holt said during a pregame press conference, according to NESN. "I'm sorry, Taco Bell. I mean, that's just my opinion. I'm sure a lot of other people love it. I'm sure if I had Twitter I would hear something, but I deleted Twitter last year. I don't know if Taco Bell has an Instagram but they haven't messaged me or tagged me. I apologize to Taco Bell. I'm sure a lot of people will get their free tacos, though."
That they will, Brock. That they will.