Trump administration will reportedly send troops to the US-Mexico border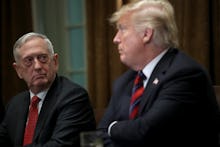 Secretary of Defense James Mattis is reportedly planning to deploy hundreds of troops to the United States' border with Mexico — something President Donald Trump has repeatedly threatened.
According to the Associated Press, Mattis is expected to send at least 800 troops to the border as a caravan of thousands of migrants seeking asylum in the U.S. make their way north.
Trump has expressed outrage over the caravan, describing it as an "assault" on the U.S. He has made a number of false or unsubstantiated claims about the migrants, including that Democrats have "led" the migrants and that "criminals and unknown Middle Easterners" are part of the caravan.
Trump has acknowledged that he has "no proof" to back up the latter claim. Nevertheless, he has continued to stoke racist fear about the migrant caravan in a last-minute push to energize his base ahead of November's midterm elections.
The president first threatened to send troops to the U.S.-Mexico border in April, telling foreign leaders that America would be "guarding our border with our military." The U.S. military is generally barred from performing domestic law enforcement functions, though, and he sent National Guard troops to the border instead.
Trump again threatened to send troops to the border in a series of tweets Oct. 18.
"I must, in the strongest of terms, ask Mexico to stop this onslaught," Trump tweeted. "And if unable to do so I will call up the U.S. Military and CLOSE OUR SOUTHERN BORDER!"
It's not yet clear from reports if the 800 new troops will be from the National Guard or a different branch of the U.S. military.