Gillum and DeSantis trade increasingly personal blows during second Florida gubernatorial debate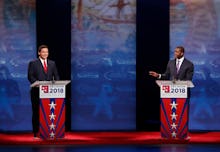 If the first debate between Florida's gubernatorial candidates was tense, their second matchup was an all-out war.
On Wednesday, Democrat candidate Andrew Gillum and Republican Ron DeSantis squared off again in an hourlong debate, with topics ranging from the ongoing FBI corruption investigation into Gillum — currently the mayor of Tallahassee — to accusations that DeSantis is receiving campaign support from neo-Nazis.
The contentious race, in which Gillum is thought to have a slight edge, has been marred by racist overtones as the Democrat seeks to become the first African-American governor in the state's history.
In one of the most powerful moments of the night, Gillum confronted DeSantis, a former U.S. representative, over the bigoted tenor his campaign had taken on in the weeks since the Trump-backed Republican told voters not to "monkey this up" by voting for his black opponent.
"My grandmother used to say, 'A hit dog will holler,' and it hollered through this room," Gillum said to cheers from the audience. "Mr. DeSantis has got neo-Nazis helping him out in this state, he has spoken at racist conferences, he accepted a contribution — and would not return it — from someone who referred to the former president of the United States as a Muslim n-i-g-g-e-r."
Gillum was referring to a sizable donation DeSantis had received from GOP megadonor Steven M. Alembik, who, as Politico reported back in September, had tweeted out racial slurs against former President Barack Obama.
"When asked to return that money he said no," Gillum continued. "He's using that money to now fund negative ads. Now I'm not calling Mr. DeSantis a racist, I'm simply saying the racists believe he's a racist."
Alongside the racial politics in the gubernatorial race are ethical questions, particularly as they pertain to the ongoing FBI investigation into city government in Tallahassee and recent reports that Gillum had accepted a coveted ticket to the Broadway musical Hamilton from an undercover FBI agent posing as a real estate developer in 2016.
"I received my money legally and through my congressional office," DeSantis said. "Andrew got travel money from the federal government because it was from an undercover FBI agent who is investigating him for corruption."
Gillum said he should have "asked more questions" when it came to his 2016 trip to New York City, but has said he is not a focus of the FBI's investigation.
"In the state of Florida, we got a lot of issues," Gillum said, responding to DeSantis. "In fact, we got 99 issues and Hamilton ain't one of them."