3 members of Congress you'll be seeing a lot more of if Democrats win the House in the midterms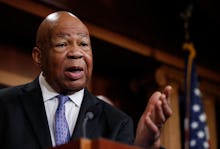 If Democrats take control of the House on Tuesday, as they are expected to do, then it's more than just the speakership Democrats will control.
There are also 27 House committees that work on everything from the federal government's pursestrings to health care to government oversight. And if they take the House, Democrats would be in charge of all of those, having the power to hold hearings, subpoena documents and federal officials and lay out policies the party wishes to pass.
Controlling those committees would allow Democrats not only to investigate the Trump administration's every move, but it would also allow the party to lay out an agenda and present a contrast to Trump and the GOP — even if the legislation that they are drafting in those committees never becomes law, thanks to the likelihood of a GOP-controlled Senate thwarting those bills.
Because of the importance these House committees hold, the Democrats who would chair them would be thrust onto the national stage.
Here are the Democratic members of Congress who are likely to be the next chairs of important House committees. You'll be seeing a lot more of them if Democrats win the House.
Rep. Elijah Cummings (D-Md.)
Perhaps the most important of the 27 committees during Trump's presidency is the House Committee on Oversight and Government Reform. If we see Democrats win the House, it will likely be chaired by Rep. Elijah Cummings, the Maryland Democrat who serves as the committee's ranking member.
As chairman, Cummings would control what the committee puts under investigation. Given the laundry list of scandals that have erupted during Trump's tenure, there are a wealth of issues Cummings could begin investigating on day one. Mic's Eric Lutz gave a rundown of what the public can expect from a Cummings-led committee.
"I think it's going to be the most consequential impact of the midterms if Congress flips," Kurt Bardella, who was a spokesman and senior strategist for the House Oversight Committee under retiring GOP Rep. Darrell Issa, previously told Mic. Bardella is no longer a Republican, having switched parties to become a Democrat and vocal critic of Trump.
Rep. Adam Schiff (D-Calif.)
You already see a lot of California Democratic Rep. Adam Schiff, who is the ranking member of the House Permanent Select Committee on Intelligence.
However, if Democrats take the House, Schiff would likely take the reins of the committee currently chaired by GOP Rep. Devin Nunes — a fellow Californian who has been a top defender and protector of Trump.
While Nunes shut down the committee's Russia investigation, Schiff would likely start it back up, and he'd be in charge of calling witnesses and coming up with a new report that details what the committee found in regards to Russia's meddling in the 2016 election.
Rep. Maxine Waters (D-Calif.)
Rep. Maxine Waters (D-Calif.) has become a deeply outspoken critic of Trump and Republicans, and as such, a favorite target of the GOP's political attacks.
If Democrats take the House, Waters would gain an even bigger profile as the likely chairwoman of the House Financial Services Committee, which oversees economic issues, the banking system and monetary policy, among other important issues.
It's this committee that deals with regulating banks — a key issue of progressives such as Sen. Bernie Sanders (I-Vt.). Helming this committee would give Waters a megaphone on that issue.